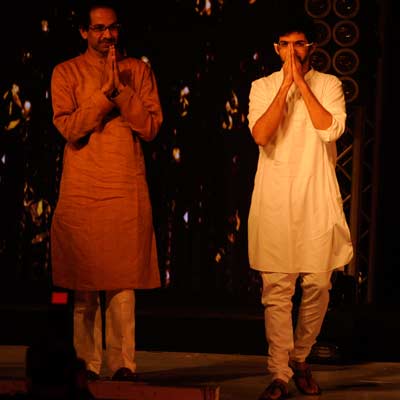 After creating ruckus with its strong editorial criticising Gujaratis not to neglect Maharashtra, Shiv Sena did a turn around and refuted the allegations.
Party chief and also Saamna's editor-in-chief Uddhav Thackeray issued a statement saying, "Someone is deliberately trying to create (a) rift between Marathi and Gujarati communities, which unitedly voted for Modi in the Lok Sabha elections."
On Maharashtra Foundation Day Samana's editorial had criticised Gujaratis for being partial with Maharashtra since the editorial said Gujaratis came out to support BJP prime ministerial candidate Narendra Modi, which they never do for the state where they live in.
Sena mouthpiece Saamna warns Mumbai's Gujaratis not to neglect Maharashtra
To substantiate his father's statements, Aditya Thackeray took to twitter and put out a clarification. He even asked people to retweet and spread the word.
In the clarification, Aditya stated that his statements from editorial were completely misconstrued with wrong translations. He also said that there was no lashing out and that the editorial sought for bringing together both the communities.
The piece ended with Aditya stating that there would be many more attempts to break this unity and that both the communities should strenghten the bond and love.
Our clarific and view on unnecessary controversy #Maharashtra #Gujarat #ShivSena Please RT pic.twitter.com/v2dXPngdUE

— Aaditya Thackeray (@AUThackeray) May 2, 2014
The case so far:
In an editorial, the Shiv Sena had apparently accused the Gujarati community of exploiting Mumbai to earn wealth and criticised it for a lack of sense of belonging to the city and Maharashtra.
An editorial published in "Saamna", the official mouthpiece of the party, on Thursday, said: "The Gujarati and other bepari (trader) communities in Maharashtra which united with pride as Gujaratis for (Narendra Modi) must now come together for Shivray's (Chhatrapati Shivaji Maharaj) Maharashtra and join in the celebrations on Maharashtra's foundation day."
The comment reveals internal contradictions and widening cracks within the Shiv Sena-BJP alliance, which has been under some strain recently over some BJP leaders associating with Raj Thackeray's MNS. The Shiv Sena is the oldest ally of the BJP. "Staying in Mumbai, they enjoyed wealth. They minted money... those who were penniless exploited Mumbai, Maharashtra and built their own Dwarka of gold and are calling the shots in the country's power politics based on this wealth generated from Mumbai. They are chalking out plans on who is to be made the prime minister and who is to be deposed," read the editorial, which was an obvious reference to the Gujaratis.
Uddhav Thackeray, the president of the Shiv Sena, is also editor of "Saamna". "But, how many beparis come down from their skyscrapers to participate in the Maharashtra Day celebrations and repay their obligation to Maharashtra?" the editorial asked.
With inputs from Dhaval Kulkarni