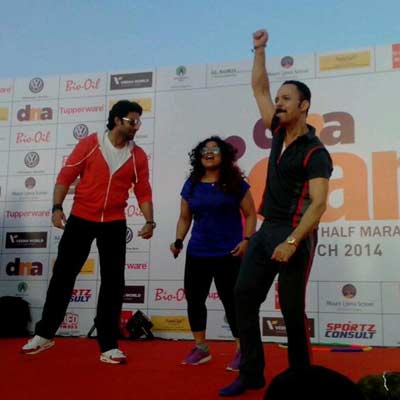 The dna iCan marathon kicked off with much excitement, earlier today at Bandra Kurla complex, with Abhishek Bachchan, RJ Malishka and Mickey Mehta at the helm to cheer the many ladies who participated.
The much awaited Mumbai based event was quite a celebration of womanhood, more so as it followed the International Women's Day.
The marathon was divided into three diverse events, namely, Half Marathon of 21 km, Spirit Run of 10 Km and the Fun Run of 5 Km which has seen enthusiastic entries from thousands of Mumbai women.
Cheering and encouraging the female runners, the junior Bachchan along with Malishka and Mickey Mehta piqued the crowd's exuberance.
"@dnaICan: 'Gurubhai'has gone all out in cheering the #dnaICan ladies! pic.twitter.com/29k7T9zfrV" -great cause, super event, well done!

— Abhishek Bachchan (@juniorbachchan) March 9, 2014
#dnaICan @dna set for countdown pic.twitter.com/aLpB1NaDWn

— Amrita G. (@amritasalian) March 9, 2014
Other celebraties, too, were seen at the event and running besides women from a cross section of the city.
Good Mornin! Have a super day! Enroute to run the 5km @dnaICan women's marathon 4 #cancerswareness & #educationforgirlchild Any1 coming

— Tara Sharma Saluja (@tarasharmasaluj) March 9, 2014
In a lighter moment, Bachchan even aaccepted a challenge to hoola hoop with feisty Malishka.
. juniorbachchan accepts @mymalishka's challenge to a Hoola Hoop-off! #dnaICan #excited http://t.co/wL2I7neJIt

— DNA ICan (@dnaICan) March 9, 2014
N I taught the most flexible @juniorbachchan a skill that I haven't quite mastered yet!He's good haan. #dnaICan @dna pic.twitter.com/GLzcFefU4N

— Malishka (@mymalishka) March 9, 2014
1st #dnaIcan run with 6000 other women. Mumbai spirit never fails. http://t.co/E7Z0uYf8U1

— Aparna Sheth Bhatia (@Aparna2506) March 9, 2014
When @mickeymehta, @mymalishka and @juniorbachchan warm up with the 5 Km Fun Run participants pic.twitter.com/k8cHroniC9

— DNA ICan (@dnaICan) March 9, 2014
#savingtheworld #dnaican #IWD2014 #girlpower pic.twitter.com/6NBZKHrnbX

— Geet (@geet_s) March 9, 2014
The winners:
Neelam Rajput won the marathon ahead of Supriya Patil and Rijawana Kakeri in the 21km run. The 10km run saw Heena Mali finish ahead of Jyoti Punjabi and Nina Hamre. In the 5 km category, Snehal Shinde was the winner, with Priyanka Ingale and Pranita Bandi finishing behind her.
About DNA ICAN Women's Half Marathon
dna has been taking up relevant causes for the city and it's readers at various points of time and never hesitated to raise a relevant issue and take action. In the same vein, a slew of initiatives towards the betterment of women in India were planned. DNA conceived a platform that brings multiple women issues to the fore. The inaugural ICAN Women's Half Marathon in 2012 was a breakthrough event. An ideal platform for women to make a difference by supporting a cause and celebrate the spirit of achievement.
[Pict] @juniorbachchan looking so COOL at #DnaICan Marathon @dnaICan @dna #collage pic.twitter.com/WzPI5F3hLx

— AbhishekAishwaryaLuv (@AbhiAsh_IndoFc) March 9, 2014
Not an inch to move at 3rd successful yr of #dnaICan wd @juniorbachchan @mickeymehta @mymalishka #happytobeapartofit pic.twitter.com/Xhcv0SL4fE

— Tejash Kothari (@tejash212) March 9, 2014
For more related stories, click here