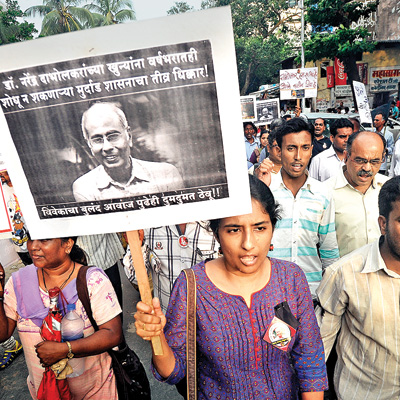 Even a year after 65-year-old anti-superstition crusader Narendra Dabholkar was shot dead in broad daylight in Pune, his killers remain at large. The Central Bureau of Investigation (CBI) which took over the case this June, now says it hopes to trace the culprits involved.
"We are in the initial stages of investigation. We have just taken over the case. We are hopeful of tracing the culprits involved," Kanchan Prasad, CBI spokesperson from Delhi, told dna.
It was around 7.15am on Aug 20 last year that Dabholkar was shot dead by unknown assailants while on his morning walk on the Balgandharva bridge in Pune. Dabholkar, founder president of Maharashtra Andhashraddha Nirmoolan Samiti, had launched a sustained crusade for enactment of a law to curb black magic and superstition.
On Jan 20 this year, the police arrested arms dealer Manish Nagori (24) and his aide, Vikas Khandelwal (22) on the basis of a ballistic expert report which suggested that a firearm used by the assailants matched one seized from Nagori and Khandelwal. The duo was charged with criminal conspiracy in Dabholkar's murder. The two however, denied any involvement in the murder. They were eventually let off on bail as the crime branch failed to file a charge-sheet against them within the stipulated 90-day period.
Since the Pune police did not make any headway in the case, the probe was transferred to the CBI following a Bombay high court directive.