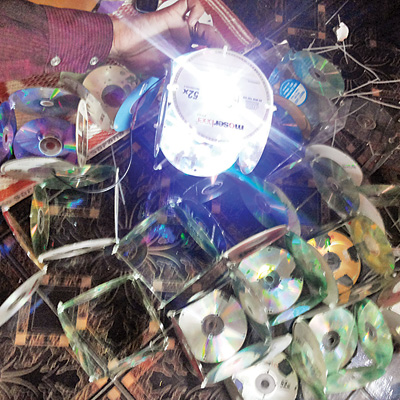 Umesh Rathod, founder of Mission Catalyst NGO, has bright plans to make this Diwali a eco-friendly celebrations. Rathod, founder of Mission Catalyst, wants more and more people to use solar lanterns manufactured by them. Rathod's team, four members team has differently abled and so far, they have manufactured 200 lanterns.
They started working on it, since, June and aim to manufacture 10,000 lanterns.
"Nowadays we have electrical appliances, which work on solar system, why not have a lantern too. "Every year, we waste so much electricity during Diwali, which causes power shortages on the outskirts of Mumbai. So, I came up with the idea of this lantern, which can be used during festivals, as well as on other days. In rural areas, where power cuts are frequent, this solar lantern can be used at night, which will help students to study."
The catalyst lantern is made of one solar panel, an LED light, a battery and CDs. The lantern takes about four and a half hours to charge, depending on the solar light and has a shelf life of five years.
Catalyst has visited the villages of Ujjeyani, Akhada and Godhichapada and have briefed villagers on how they can use and maintain the lantern.
Catalyst will be joining hands with other NGO's and schools in order to create awareness of usage of this lantern. They also have plans to tie up with other NGOs to spread the message of eco-friendly celebrations.
Reach him
Umesh Rathod : 9757426699; missioncatalyst.in@gmail.com