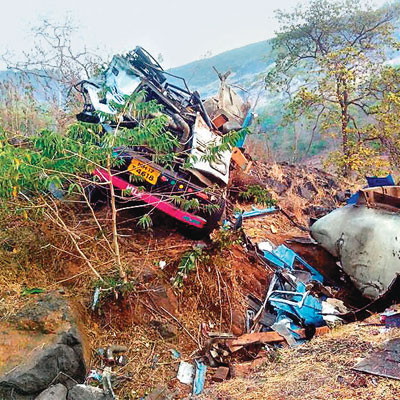 Five members of a family from Goregaon were killed and three others seriously injured as a milk tanker in which they were travelling from Sangamner to Mumbai overturned near Kasara on the Mumbai-Agra National Highway on Sunday. The accident took place around 2am.
Thane district rural police said the deceased were from the same family and were residents of Rajiv Gandhi Nagar in Goregaon. They had hitched a ride in the tanker, which was on its way from Nashik to Mumbai.
The injured were rushed to the Nashik civil hospital, while the bodies were taken to the Shahapur rural hospital for autopsy.
The deceased persons have been identified as Shamina Arif Shaikh, 33, Sara Arif Shaikh,4, Sahidabano Shaikh, Irfan Shaikh and Abdul Quadir Shaikh, 93.
The police said the tanker seemed to have skidded, hit the road-divider, and overturned. "The victims are taken to the near by hospital for first aid. We are still investigating the case," said Vijay Sonawane from Kasara police station.
Madhav Waghmare of Shahapur rural hospital said the injured were brought there around 2.45am they were later sent to Nashik civil hospital for further treatment.
After the accident, the road was blocked for some hours. "We have registered a case against the driver and cleaner for rash and negligent driving. The driver and cleaner of the vehicle were not under the influence of alcohol," a police officer said.