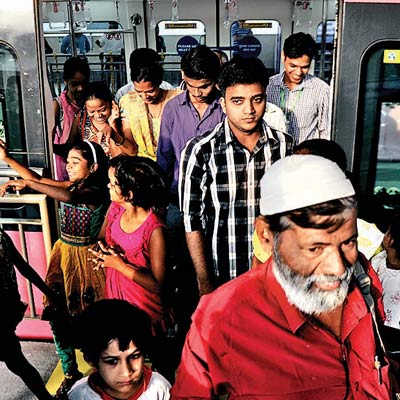 The good news is that in the first month of its operation, over 4.5 lakh commuters have travelled in the monorail (between Wadala – Chembur).
According to the statistics available with the Mumbai Metropolitan Region Development Authority (MMRDA), between February 2 and March 1, a total of 4,58,871 commuters have hopped in to the monorail.
"We are happy and satisfied that the monorail is liked by the people. As promised, the work for the next phase (Wadala to Jacob Circle) is on schedule. We expect it to be completed by next year," said Dilip Kawathkar, joint project director, public relations, MMRDA.
The total revenue generated during the first month is Rs44,66,522. According to the development authority officials, in the next 10 days a review will be held on the first phase of the project. This will be done to decide if there is a need to change the operational timings or rather the operations should be increased.
India's first monorail was inaugurated by chief minister Prithviraj Chavan, on February 1.
The Mumbai Metropolitan Region Development Authority (MMRDA) plans to cash in a minimum of Rs3 crore from selling advertisement rights at the seven monorail stations between Chembur and Wadala Depot.
As per the plans by the development authority, the advertisement rights would be given for a period of five years for specified spaces in the station – concourse level as well as platform level.
An MMRDA official said, "With the first phase of monorail now operational, the ridership figures will only help in attracting advertising agencies. Earlier it was said that monorail will not attract crowds, but the truth is that it is heavily crowded."
As the second phase of the project between Wadala Depot and Jacob Circle also known as Sant Gadge Maharaj Chowk, will take another year for completion, authorities will float bids to lease out advertisement spaces at a later date.
The official added that Rs3 crore is just a reserve price and is confident of getting a handsome revenue by leasing out advertisement for five years. The cost of the first phase of the project of 8.93-km is around Rs1,100 crore.