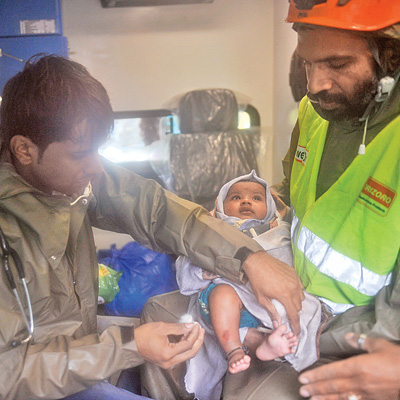 The Manchar police station is proud to have 53-year old constable Maruti Sarode in its team. Sarode has not only pulled out a three-month-old child and his mother alive from the debris, but has also pulled out several bodies after the Pune landslide that killed 25 people and buried 160 people.
Sarode, who rushed to the spot with an initial team, is working tirelessly at the spot and is chipping in whichever way he can.
He rescued Rudra Machhindra Lembhe (3 months) and Pramila Machhindra Lembhe (30) from the debris.
Some medical and rescue teams and NGOs also claimed credit for rescuing them. Local villagers and policemen said Sarode is known for his diligence and pulled out 6-7 bodies from the debris. Dna couldn't talk to Sarode as he was busy with the rescue operations.
Dr Seema Deshmukh of the sub-district government hospital, where the mother-son duo are being treated, said both are out of danger.