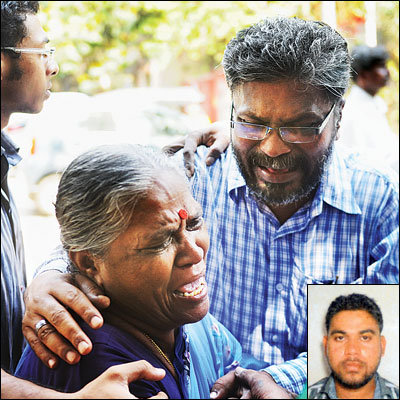 A 24-year-old man died in the custody of the Wadala railway police on Friday.
Maharashtra is notorious for custodial deaths. In the past five years, at least 20 people have died in police custody.
Agnelo Valdaris was picked up on Wednesday in connection with a chain-snatching incident. His father alleged that the police thrashed him severely. He suspects foul play.
The police have, however, said Agnelo tried to flee while he was being taken to court and was hit by a local train. The Wadala railway police outpost is beside the tracks.
His father Leonard said: "Around 1am on Wednesday, six Wadala railway policemen in plain clothes came to my house looking for my elder son Agnelo." Leonard, a clerk with the Bombay Port Trust, lives with his family at the BPT colony in Mazgaon. Agnelo was doing his graduation through correspondence, and worked part time as a driver.
"The policemen said they wanted to question Agnelo in a chain-snatching case. When I told them he was at his grandmother's house in Dharavi, they searched my house. They then forcibly took me and my younger son to the police station," Leonard said. "I offered to take them to my mother's house in Dharavi. When we reached there, the policemen took Agnelo with them. He, however, told me that he was not involved in any crime."
The police told him that Agnelo would be produced in court later in the afternoon, but that did not happen. Realising that something was amiss, Leonard wrote to Mumbai police commissioner Rakesh Maria.
"When they did not produce him in court on Thursday too, I went to the Wadala railway police station to see him. I was shocked to see his condition... He had bruises all over his body."
In the evening, Leonard got a call from a policeman asking him to rush to Sion hospital because Agnelo had slit his wrist and was admitted there. "When I met Agnelo he asked me to save him from the police," Leonard said. "They will kill me. They beat me and don't give me any food," Agnelo apparently told Leonard.
He was taken back to the Wadala railway police station late in the night. They told Leonard that Agnelo would be produced in court on Friday. "I was waiting at the Bhoiwada court on Friday when I got a call from a cop who told me that my son had been hit by a train and was in Sion Hospital."
On reaching the hospital, Leonard was told that his son was dead. "This is what happened to my son on Good Friday," he said.
Rupali Ambure, DCP (railway), said: "Agnelo was arrested on Thursday for robbery. He was supposed to be produced in court on Friday when he tried to escape and was hit by a train. The family has not approached us yet with their allegation. Once they do, we will conduct an inquiry into the matter. But even now an independent inquiry into the incident will be conducted."
Since the Wadala railway police station did not have a lock-up, Agnelo was kept at the Kurla lock-up. On Friday he was brought to the Wadala chowky. Around 11.15am, when he was being taken to Sion hospital for a check up, he freed himself from the clutches of a constable and started running on the tracks towards Sewri, according to a Wadala railway police press note. He was hit by a local train. He was taken to Sion hospital with multiple injuries. Doctors declared him dead on arrival.