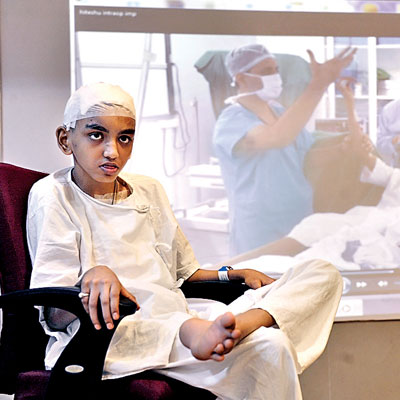 The mention of the word parkinsons and images of a rattled old persons suffering from incessantly shivering limbs and face flashes in front of your eyes. And what makes you shudder is it affecting a child because it rarely happens.
But unfortunately for the 16-year-old Hiteshu Dave, a resident of Baroda, it's a nightmare come true. Hiteshu has been suffering from Juvenile Parkinson's since the past five years. He underwent a brain operation in Jaslok Hospital, last week. His parents said that all medications had failed to improve his condition.
A neurosurgery procedure deep brain stimulation (DBS) was finally resorted to, for improving his condition. "My boy had stopped talking after the disease hit him. He had stopped going to school. His classroom being on the fifth floor, he could not climb stairs. His hands and legs would constantly break into tremors," recounted Chandresh Dave, Hiteshu's father.
A degenerative disease, whose cause is yet not fully known, leads to loss of neurons in brain that secrete a chemical dopamine. Dopamine is responsible for regulating bodily movements. Loss of dopamine production leads to body movements going awry and patients break into uncontrolled seizures, tremors or rigidity of limbs or face.
An ardent cricket fan, Hiteshu was playing a match in 2010, when he fell and his eyes rolled upwards. "He had started limping and getting tired easily. His right hand shook and his handwriting became incomprehensible. After almost six months, he was diagnosed with parkinsons. It was unimaginable that a young boy would have parkinsons," said Chandresh.
On May 5, Hiteshu had been wheeled in an awake condition with his father in tow to the operation theatre. He had been administered local anaesthesia as neurosurgeons drilled two holes in his skull and implanted electrodes in his brain with a pacemaker to pass low voltage electric currents through the deep recesses of his brain. "We did not sedate him because we wanted to test his responses to DBS. After five hours of surgery and first round of stimulation, his movements were deft and rapid. The surgery clearly worked," said Dr Paresh Doshi, neurosurgeon at Jaslok Hospital.
Dr Doshi explained that the electric stimulation helps bringing in line the awry and disinhibited behavior of cells. "We are yet to study the exact cause of improvement by using DBS therapy. But it is widely proven that it can be controlled by DBS," said Dr Doshi.
The DBS surgery costs between Rs8-11 lakhs.
Three months after the surgery, Hiteshu will be fit to return home. In yet another year, he may join school. He had no difficulty adjusting the straw in a juice carton and sipping it himself on Monday. "We will teach the parents to control his DBS through a remote control. They can adjust the amount of electrical stimulation up till three volts through the remote. In case, he displays signs of seizure, stimulation can be given and it will come under control. The battery lasts for up to four to seven years and the boy will live a near normal life with his symptoms under control," said Dr Doshi.
Juvenile Parkinsons Disease affects youngsters below 21
10 % of all parkinson's patients are children
A degenerative disorder characterised by destruction of dopamine chemical producing neurons in the brain whose cause is largely unknown
Symptoms include tremors, seizures, inability to walk in youngsters
Medication and neurosurgery are available options to treat Parkinsons in children