The incident occurred at 7 am near Tasa in Thane rural on NH 8.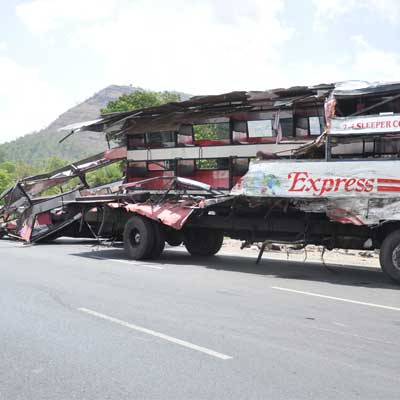 The Mendhwan bridge near Kasa village on the Mumbai-Ahmedabad Highway saw one of its worst accidents when a Gujarat-bound chemical tanker carrying polyester resin, a flammable substance, rammed into a luxury bus heading from Ahmedabad towards Mumbai.
The collision left 14 persons dead and 41 injured.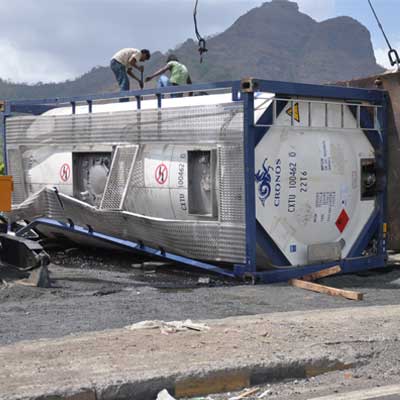 At around 7am on Wednesday the luxury bus (GJ.3.AW.9914) from Kabra Tours and Travels left from Ahmedabad with 55 passengers onboard and was on Mendhwan bridge when a Gujarat-bound tanker (MH.06.AQ.9623) rammed the bus after the driver lost control and crossed the divider. The rescue team reached the site of the accident 20 minutes after the incident and the injured and the deceased were rushed to the Sub Medical hospital at Kasa.
"The driver of the tanker was at fault as he lost control and rammed into the on-coming bus and it had spilled its flammable cargo so we have closed the movement of vehicles on the bridge and started the rescue operation while the traffic was normal due to the below roads were open," said Prashant Mohite, Superintendent of Police, Highway Traffic, Thane Region.
We have brought one fire engine to cool down the liquid substance in order to reduce the damage as it could lead to major disaster. Our personnel doused the minor fire which engulfed the site after the accident, said RG Brahmankar, fire officer, MIDC Tarapur.
The driver of the tanker and the bus are yet to be recognised while the cleaner of the tanker, Pramod Yadav, has been admitted to Bhagwati Hospital with severe injuries, said Bharat Chaudhari, assistant police inspector, Kasa Police Station.
We are yet to register the case against the driver of the chemical tanker as we have to first identify the deceased and handover the dead bodies to the family, said Chaudhari.