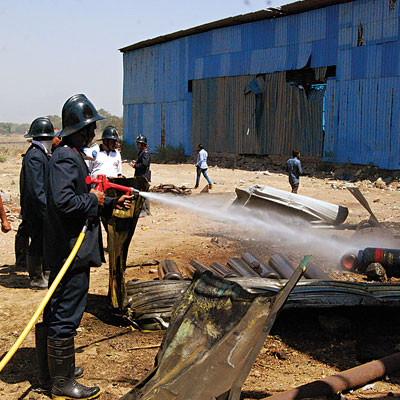 One person was killed and three others were seriously injured after a boiler exploded in an industrial scrap godown in Mumbra on Saturday.
According to the police, the incident took place at a unit in Gothegar on the Mumbra-Panvel Road around 12.50pm.
Santosh Kadam, chief of Regional Disaster Management Control (RDMC) of the Thane Municipal Corporation, said a person present inside the godown was charred to death while three others received severe burn injuries.
The injured have been admitted to Thane Civil Hospital. The deceased is yet to be identified, fire brigade sources said.
The injured have been identified as Ramlal Yadav, 32, Nauman Yadav,32, and Phoolchand Prasad, 35.
Eyewitnesses said houses nearby the godown have developed cracks due to the impact of the blast.
Nauman Yadav, one of the victims, said, "I was working inside the godown. When I turned back to pick up metal pieces, suddenly there was an explosion. Everyone was running for their safety. There were no safety measures in place."
A nurse from the Thane Civil Hospital said, "All the three have suffered 99 per cent burns and the chances of their survival look bleak."
"We have not registered a case yet. We will take the statement of their family members and then register a case. The owner is absconding and we have launched a hunt for him," said a police officer.
Earlier, three people were killed in a boiler blast at Manpada-Dombivli on December 6.