One person died and 16 others were injured in the metro rail bridge collapse accident at Andheri on Tuesday evening.

Thirty five-year-old labourer Umesh Sahu succumbed to injuries due to the bridge collapse and was declared dead at the Seven Hills Hospital at 5 pm. The injured were rushed to Seven Hills hospital in Marol, Paramount hospital in Sakinaka and civic-run Cooper Hospital in Vile-Parle.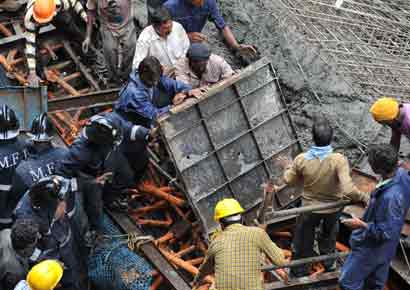 "Of the six patients brought into Seven Hills Hospital, three are critical and the other three are stable. The patients were brought within the golden hour of life saving and thus their conditions have been salvaged," said Dr Sagar Galwankar, consultant, emergency medicine at Seven Hills hospital.
"Of the injured patients, two of them are being operated for spine injury. The others have mostly suffered minor fractures and sprains," said the hospital spokesperson Dr Hemlata Arora.

"All the labourers are aged between 20 to 50 years. Most of them have sustained abdominal and head injuries along with poly-trauma. We are yet to ascertain the exact nature of injuries. One patient has sustained a spinal injury and may suffer from limb paralysis. The construction company has requested us to not reveal their identities," said a source from private-run Seven Hills Hospital in Parel.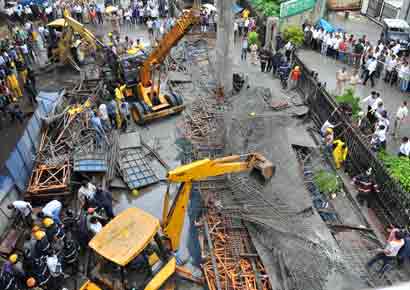 Another five injured labourers were taken to BMC-run Cooper Hospital in Juhu. All the victims at Cooper are adult males. Doctors said that at the time of the admission the injured were stable. "Due to the slab collapse the victims have suffered from blunt trauma and bruises. However, all the injured are stable," said a medical officer on duty at Cooper Hospital.

Medical superintendent of the hospital, Dr Shashikant Wadekar said, "The injured have sustained soft tissue injuries and minor fractures. Two patients have suffered injuries to the hip, one to the elbow and one person has suffered from back trauma. The nature of injuries will be examined by orthopaedic doctors for further treatment."

Hospital sources at Paramount said, "Two patients have been admitted to the general ward and three in the ICU. One patient in the ICU has suffered from a pelvic fracture."

Activists cried foul over the lack of safety measures, which lead to loss of lives at the metro construction sites. The Andheri-Kurla road metro rail construction site runs into nearly 14 kilometers with no accessible first aid equipment on the location.
"First aid safety should be taken seriously at metro sites. Some stray balms and band aids serve no purpose during a heavy bridge collapse that crushes bones. Ideally, first aid mobile vans with ventilators and other surgical equipment should be available at the construction sites," said James John of Action for Good Governance and Networking in India (AGNI).