Co is betting big on the compact sedan to turn around volumes of its passenger vehicle biz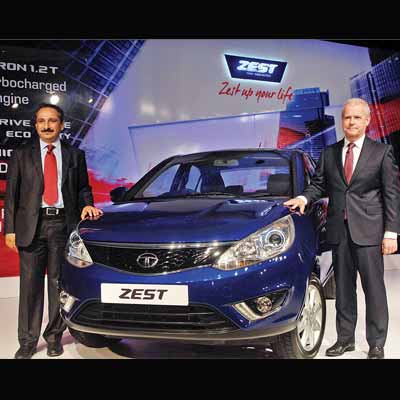 Four years after it launched Aria, Tata Motors on Tuesday drove in a sub 4-meter compact sedan Zest, with hopes that it will revive sagging volumes of its passenger car business unit.
Powered by the company's new Revetron petrol engine, Zest petrol is priced Rs 4.64-5.99 lakh, while diesel variants are priced Rs 5.64-6.99 lakh. Zest also offers automated manual transmission (AMT) in its diesel variant, first in the segment.
The Zest will compete directly with Maruti Suzuki's Dzire, Honda Cars India's Amaze and Hyundai Motor India's Accent.
The company is betting big on Zest as it looks to turn around volumes of its passenger vehicle (PV) business, which has seen decline in volumes to increasing competition and lack of new models.
Company's passenger vehicle sales declined 35.96% between April-July this fiscal compared with same period last year. In fiscal 2014, company saw a volume decline of 36.78% over fiscal 2013, as per data provided by Society of Indian Automobile Manufacturers.
With existing strong competition in the segment, experts feel Tata Motors may have to face a challenge in pulling the customers from brands like Maruti and Honda.
"Zest definitely is a good comeback for Tata Motors, however, for them to pull customers from already proven brands will be a challenge," said Puneet Gupta, associate director, IHS Automotive Sales Forecasting.
"However, customers who are looking to buy a hatchback, especially in smaller cities, may go for Zest. With none of its products doing well, a lot would now depend on the dealers and how quickly they can get the momentum," he said.
As per industry estimates, the sedan segment is expected to grow around 20% this year, with an estimated volumes of about 3.3 lakh units in calendar year 2014.
After Zest, Tata Motors has set a target of launching two new products every year till 2020.
Timothy Leverton, president & head, engineering research centre, Tata Motors, told reporters, "We have been working over the last three years on capabilities to be able to deliver world class standards in our products and a complete overhaul in the product development process."
The company, which faced quality challenges, is also looking at changing customer perception. As part of this exercise, Tata Motors launched its umbrella branding 'Horizonext' in June last year, which was aimed at improving overall brand perception by focusing on new products, service, etc.
Post Zest, the company will launch a hatchback – Bolt – in the next few months this fiscal itself.