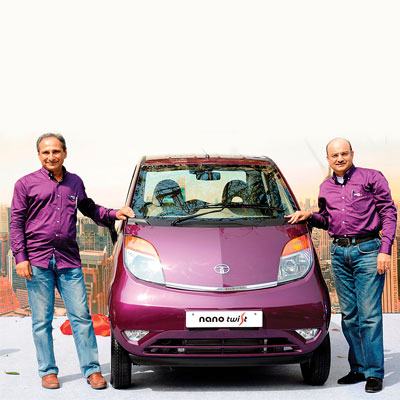 Tata Motors (TaMo) consolidated net profit for October-December (third quarter, Q3) almost trebled, or rose 195% on-year, to Rs 4,805 crore on continued strong performance of Jaguar Land Rover (JLR), its UK-based luxury carmaker, and restructuring of subsidiaries.
Domestic operations, however, continued to struggle on account of slower demand in the commercial vehicles (CV) and high competition in the passenger vehicle segment.
Standalone (excluding JLR) operations deteriorated further posting an operating loss of Rs 459 crore. However, standalone net profit stood at Rs 1,290 crore, boosted by a profit of Rs 1,945 crore related to sale of investment in a subsidiary and standalone Ebitda stood at a negative -4.3% compared to 2.2% in Q3 of last fiscal.
Sales of CVs and passenger vehicles stood at 1,32,087 units, down 35.7% on-year. "Prolonged slowdown in economic activity, weak consumer sentiment, subdued infrastructure activity, tight financing environment with high interest rates and high fuel prices impacted India operations," said C Ramakrishnan, CFO of Tata Motors.
As part of restructuring of its international subsidiaries, Tata Motors has divested four companies, including Tata Daewoo Korea, Tata Motors Thailand, Tata Motors Indonesia and Tata Motors South Africa into its wholly owned subsidiary in Singapore. There was also a tax reversal credit of Rs 630 crore during Q3.
The company said outlook for the auto industry continues to remain subdued for the next few quarters.
Q3 net profit for JLR grew to L-619 million from L-296 million in Q3 of last fiscal on account of strong sales. Ebitda stood at 17.9%, up from 14%. Its wholesale and retail volumes grew by 22.7% and 26.5% on-year, respectively.