Slums as hubs of economic activity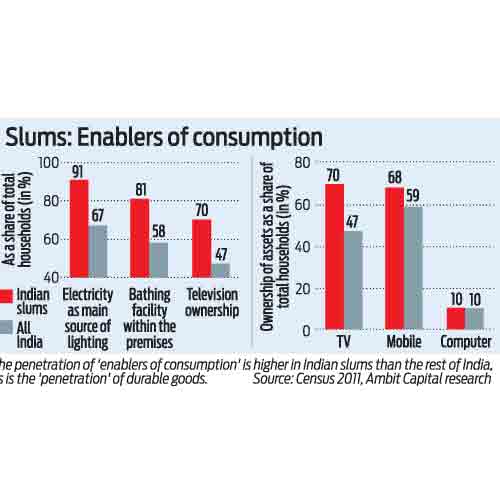 Even a cursory look at the census numbers will make it clear that India will soon have to grapple with the issue of slums far more seriously than it has all along.
Take some of the basic numbers. In the 12th five year plan document, it is stated that "The projected slum population in India is 94.98 million in 2012". Now compare this with the census findings in 2011. The slum population is shown to be 65.49 million. It is hard to justify a variation of over 30% in just one year.
So was the plan document actually providing for more politician-slumlord inspired slum formation? After all, as this column showed last week, the biggest promoters of slums are politicians, who are out to create long-term vote banks.
Read: Policy Watch: Voting clout of slums - the Rs 4.1 lakh crore game
Such demographic 'tinkerings' only serve to marginalise an existing voting population. They allow the demographic profile of an area to be modified in such a way that it favours the slum protector.
But leaving aside this terrible curse, there is no denying that slums can be hotbeds of economic activity as well. This was brought out quite eloquently last year by Ambit Capital in its research document titled "Indian slums: Hotbeds of aspirational consumption".
In that document, Ambit Capital clearly showed that slums can be big enablers of consumption. Their per capita consumption of electricity and water was higher than the all-India average. This is because, like most migrants, slum-dwellers are found to be willing to work harder, and ready to face challenges far more dauntingly, than their non-migratory counterparts.
Yet, there is no denying that this tenacity on the part of slum-dwellers is buttressed by three factors. First, most slums exist in the middle of urban settlements. Hence their access to market and economic opportunities is far greater than what rural dwellers enjoy.
Second, most slums, because they are protected by politically powerful people, generally get their water and electricity connections more quickly (many connections remain without meters) than most low-income dwellers who have paid for their dwellings legally.
Thirdly, being surrounded by relatively more affluent people, the envy factor propels them to emulate at least some part of the consumption patterns of their wealthier counterparts.
It must also be admitted that there is a darker side to all this. Slum-dwellers too have to pay rentals for a variety of things. They have to pay a weekly (at times daily) amount as protection money to the slumlord for being allowed to stay in the slum. They have to be present for rallies and demonstrations that are mooted by their respective protectors.
Not surprisingly, many of the most violent rent-a-mob participants come from slums. If they don't toe the line, they risk losing everything, including the possibility of being driven out of the slum or being picked up by the police. Slum-dwellers can also face a great deal of exploitation that often does not ever get spoken about.
That is the price slum-dwellers must pay. But, many of them believe that this is a price worth paying, since they see this as an easy ticket to a better life, eventually. Resettlement plans are drawn up for them. They begin to acquire 'legal' properties in urban centres, sometimes cheek-by-jowl to quite affluent areas.
Moreover, urban centres do promise economic opportunities that rural areas often cannot provide. The ability to use electricity, and access to education, can often be major motivating factors.
Not surprisingly, legal dwellers of a city see slums as parasites and unfair grabbers of opportunities. This sentiment grows stronger with the realisation that the biggest beneficiaries are the newly created 'protected' classes. But more on that next week.