17 public sector lenders may not recover even a third of Mallya's surging Rs 12,000 cr debt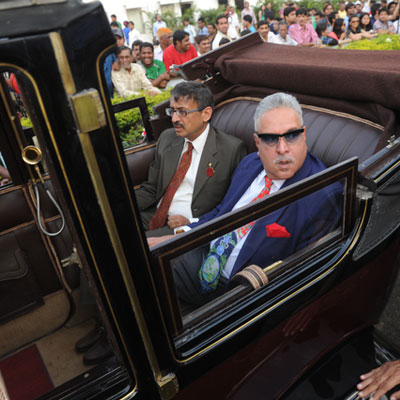 There is no way public sector banks are going to get back even a third of the surging dues of the defunct Kingfisher Airlines (KFA) whose unpaid debts including overdue interests have surpassed Rs12,000 crore.
The market estimated principal amount is roughly Rs8,000 crore and banks have personal guarantees of Vijay Mallya besides loads of KFL shares and a few of UB, United Spirits and McDowell's.
HDFC, one of the lenders, on January 16, liquidated 90,000 shares of United Spirits kept as security with it by UB Group for Rs25 crore. This was towards residential and real estate business of UB Group in Bangalore and not towards KFA where it has zero exposure.
While shares of United Spirits were sold at an approximate per share price of Rs2,778 towards recovery of dues, bankers to KFA have no such luxury as KFA trades at Rs3.05, market cap of which works out to be Rs80.33 crore.
Kingfisher's liabilities including interests and penalties levied by the 17 consortium of banks have risen to upward of Rs12,000 crore. Banks have now reconciled to the fact that getting back even 50 per cent of principal amount of Rs8,000 crore will be a bonus.
In fact, the real situation is much worse for the banks. Those familiar with the developments say banks will be in no position to recover beyond 20 per cent of the principal amount at best.
Typically banks have to make provisions for the asset from the 91st day of non-payment of dues, starting end-2011. These provisions are staggered over the next four years to the extent of outstanding, meaning, they will provide for the principal amount from their profits and then write it off from their balance sheet.
By the next four years existing chairmen of banks would have retired and it would be a feather in the cap for the new chairmen who will settle the amount out of court at less than a third and show it as profits in the balance sheets.
This probably will win kudos from the finance minister for banks' 'bonus' profitability on the fifth year from 2011.
Most big creditors are government banks like State Bank of India, IDBI Bank, Punjab National Bank and Bank of Baroda. Lenders from the private sector, include ICICI Bank, and J&K Bank.
SBI has the largest exposure to Kingfisher at Rs1,600 crore, followed by Punjab National Bank and IDBI Bank at Rs800 crore each. Bank of India and Bank of Baroda have an exposure of Rs650 crore and Rs550 crore respectively.
This is a unique case where the draconian Sarfesi Act (Securitsation and reconstruction of financial assets and enforcement of security interest act), 2002, will fail to bear fruit as Vijay Mallya's liabilities to banks have been largely based on cash flows, his own reputation as an industrialist, unsecured assets which comprise intangibles like brand and recognition and a few tangible assets like aircraft, most of which were leased ones, UB and group company shares — though not enough versus the outstanding — and Mallya's yacht and properties in Goa and Mumbai.
The properties in Goa and Mumbai have more than one lender's claim and it is again too many banks fighting for their bit between them. None of these, however, will fetch them beyond Rs300 crore at current prices, bankers say.
Last fortnight the Karnataka high court gave lenders the right to auction the Andheri propery of Kingfisher.
The property is worth around Rs200 crore. But lenders have parallel rights on the property.
Even if sold, there are multiple claimants to the property and an arbitrator has to decide who will get how much depending on who has the first right, second right etc. This is the problem that lenders face.
Apart from this, banks also face legal complications exercising the guarantees of group companies.
UB group has a market cap of Rs21747 crore (as of Feb 6, 2014) enough to get banks more than their share of dues, but then the case is not as simple as that. UB itself is a company with its own liabilities and guarantees to loans it has acquired for its business.
The entire market cap of five of his listed companies is over Rs58,000 crore. These include United Spirits (Rs 35,943 crore), Mangalore Chemicals and Fertilizers (Rs729 crore), UB Holdings (Rs185 crore), McDowell Holdings (Rs47 crore) etc.
But lenders cannot take over these properites because they have not been pledged with them, apart from a few shares.
The other obstacle would be Mallya's unwillingness to square off liabilities by divesting part of his controlling stake in UB group at a premium, say experts.
UB group in the meanwhile is biding time with the law and bankers. As for banks, it is four long years of provisioning bad debts and simultaneous rounds of legal recovery mechanism that will frustrate them to come to the negotiating table with Vijay Mallya.