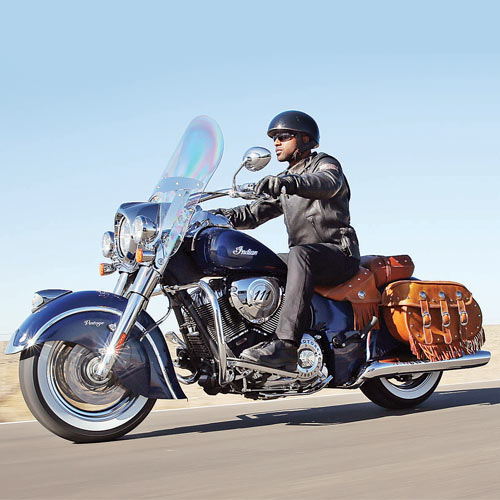 Hot on the heels of British bike maker Triumph's entry into India, the rejuvenated Indian motorcycle marque from the US is poised to follow in late January 2014.
Part of the Polaris Group which makes the Victory range of high-end vee-twin motorcycles in the US and also a range of ATVs (all terrain vehicles), snowmobiles and other equipment, the Indian motorcycle nameplate is one of the most evocative in the two-wheeled world.
It was the world's largest bike maker from the 1930s to the mid-1940s when a series of economic blunders by its then management saw it go bust.
From there on Harley-Davidson has remained steadfast as the leading American bike maker to this day.
Now better engineered and more importantly even better put together, the Indian is getting to roam the wide expanse of US motorcycling roads as a genuine alternative to the ranks of myriad Harley-Davidsons.
Polaris already has a presence in India with its ATVs and the move to launch Indian and not Victory is a positive move by the company.
The Indian Chief would be the first offering and this is a high-end cruiser with loads of style, charisma and punch to offer an even more eclectic motorcycle for those with deep pockets and who prefer the feet-forward way to zip on two-wheels.
To begin with there will be just one outlet in Delhi with two more to follow in Mumbai and Bangalore within months. Given the fact that Polaris also has inked an MoU with the Eicher Group to make a range of personal mobility vehicles starting in 2015, one could just envisage a whole new range of possibilities where there could be a grand alliance (should all agree).
The other significant news is about Ducati.As is the case with all VW Group brands in the country, Ducati's future will now be in its own hands, managed and operated by an all-new national sales office.
Cristiano Silei, vice-president sales and marketing of Ducati, said, "We consider India an extremely important part of Ducati's future global strategy and will strengthen our presence in the market with premium services and a larger network that will be in line with our global standards."
Audi dealers could be logical points of customer connect, which is something Ducati never had since its more than five-year presence in the country.
And the sooner Ducati can bring in its iconic 695 Monster to the market the better it would mean for this end of the Indian bike market – enthusiasts with just about Rs 5.5-6 lakh to splurge have never had it so good.