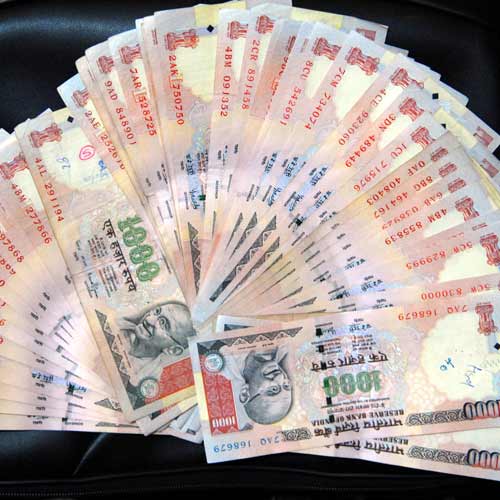 Rupee displays an anomalous behaviour during general elections in India. In a pattern seen in every Lok Sabha election in the last 15 years, rupee has weakened against the dollar during election time or months preceding the polls.
Four Lok Sabha elections have been held since 1998 and the political parties are rolling up their sleeves for the upcoming polls scheduled in May this year. The elections may get notified in the first week of March.
Interestingly, the currency had gone in a tailsplin against the greenback in August last year too, owing to global factors like Federal Reserve's imminent decision on quantitative easing. From Rs59.66 level against the dollar on July 10, the currency, in its steepest fall ever, came down to Rs68.33 per dollar within one-and-a-half month. However, it remains to be seen whether the currency replicates the pattern of weakening against the dollar in the months preceding the Lok Sabha elections this time round.
Take for example the case of general elections of May 2009, when the United Progressive Alliance (UPA) government had completed its first term and had gone into the elections in five phases for one month starting April 16. As per the data accessed by dna, on January 1 2009, rupee was at 48.77 against the dollar and it touched Rs 50.52 against the dollar on April 28, when the general elections were at its peak. Interestingly, in the whole of March 2009, the currency remained above Rs50 a dollar. From 51.94 level on March 2, it kept oscillating till 50.39 to end the month at 50.73 on March 31. After the elections in June the rupee reached Rs47 level against the dollar. Almost similar was the case in 2004. From 43.60 level in March, the currency weakened almost by Rs2 to Rs45.41 against the dollar on May 11.
Elections were held in four phases between April 20 and May 10, 2004. Experts agree that weakening of the currency is seen in the election year. Most of the forex punters dna spoke to were ambiguous about the reasons behind the pattern. However, most agreed that foulplay and rigging to get maximum value of dollars stashed illegally abroad could not be ruled out.
According to the findings of forex consultants India Forex Advisors, rupee depreciated 27% one year prior to the 2009 elections and saw 4.5% depreciation three months before the 2009 elections. The agency's findings reveal that in 1998 too, the currency depreciated by 10% one year prior to the elections and 7.8% three months before the elections. In 1996 also, the currency registered a 13% depreciation according to the forex advisory consultants.