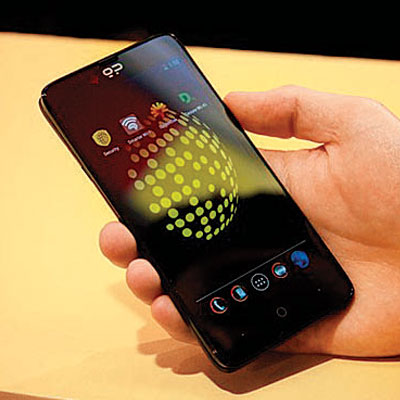 Blackphone is the world's first smartphone, which places privacy and control directly in the hands of its users.
It includes a unique combination of operating system and application tools that offer unparalleled security and privacy to information workers, executives, public figures, and anyone else unwilling to cede ownership of their privacy to other authorities.
Blackphone's PrivatOS, built on Android and combined with privacy-enabled applications, allows users to regain control over their communications activities. No longer will the use of a smartphone demand acceptance of unauthorised surveillance, commercial exploitation of activity data, and the loss of privacy, security and fundamental human rights.
Blackphone is powered by a 2GHz quad-core processor and includes a 4.7? HD IPS screen, LTE, HSPA+, 2GB DDR3 RAM, 16GB of storage, 8MP primary camera with flash and 1.3MP front camera, Bluetooth 4.0, WiFi, GPS, and more.
Selling for $629, Blackphone is available in India free of shipping charges. But there is 15% tax, which will cause the smartphone to eventually cost $723, roughly Rs45,000 in India. This doesn't include local custom duties that you may attract while importing the phone. Blackphone is a real no-excuses solution for traveling executives looking to bring your own device (BYOD), families concerned about personal security, and anyone else who understands the value of maintaining personal privacy rather than giving it away for free.
Blackphone comes unlocked and features several pre-installed privacy tools, all of which are fully enabled for at least two years of usage. These tools include the Silent Circle suite of apps, including Silent Phone, Silent Text, and Silent Contacts; anonymous search, private browsing, and VPN from Disconnect; and secure cloud file storage from SpiderOak. In addition, Blackphone ships with the smart WiFi Manager from Mike Kershaw, chief architect for SGP Technologies, and a powerful remote-wipe and device recovery tool.
"We wanted to deliver not just the best privacy, but the best total package," said Toby Weir-Jones, SGP Technologies' MD. "Blackphone offers unprecedented value in a turnkey secure communications platform. It's easy enough to use — anyone who's used a smartphone will feel right at home as soon as they turn it on."
"We signed on to the Blackphone project with great excitement," Ethan Oberman, co-founder and CEO of SpiderOak, said. "We have created a special SpiderOak Blackphone Edition, which offers a 250% increase in secure, zero-knowledge cloud storage capacity over the free account you can sign up for via our website. We can't wait to hear stories from Blackphone users about how they're taking advantage of this integrated storage solution."