Ghungroos and rhythmic foot-tapping are heard across the lobby outside Seema Mehta's Napean Sea road flat overlooking Priyadarshini Park. When the kathak dancer and daughter of one of the top jeweller families in the country opens the door, inviting flavours from the kitchen vie for attention with the sea-breeze and views of the sea-face from every window of the 13th storey home.

"I was just practising some tatkars till the quinoa cooks," she says pointing to the pan on the gas stove. "Nothing makes me happier than dancing, and the 15-minute wait for the quinoa to cook provides an opportunity for some exercise too."

It is perhaps this out-of-the-box thinking that's made her think of using leftovers to rustle up a brunch for friends. "We had dry moong dal sabzi day before and cow peas (chowli) in curry yesterday. Its far too much to just throw away and pulses are full of nutrition," observes this cooking enthusiast who quickly adds, "Besides since they are cooked and seasoned it means, today's new recipes will take that much lesser time."

While the cow peas have been rinsed to remove gravy traces, the asafoetida and coriander flavours linger. "I like to see what I'm making not as recycling but entirely new recipes. The flavours trapped in the cooked cowpeas will give the salads I'm making, a different twist," insists Mehta. She divides the bowl of rinsed cow-peas into two portions. One of these is tossed with chopped and peeled apples and chat masala to create a salad with a distinct Indian taste. The other portion is tossed with quinoa, chopped tomatoes, parsley and a vinaigrette created with extra virgin olive oil and lime extract with salt and pepper to give it a more continental feel.

As for the moong, crushed slightly, it becomes stuffing for parathas which are being served as the main course with curd.

"In India we have always been told to see food as Goddess Annapurna's blessing which cannot be thrown. Not many want to follow this value seen as a vestige of hard times in the past," she observes.

Since nothing about the tony location of the sprawling South Mumbai flat or its plush interiors indicates anything amiss, we voice our concern only to hear Mehta laugh. "I know markets have tanked and the rupee's taking a big beating but what I'm doing has nothing to do with that." On a sombre note the dancer who is also a qualified jewellery designer adds, "Fortunes are being lost in the stock market blood-baths, living a bit prudently won't harm anyone," and chortles, "Definitely not, when it smells so heavenly."

Mehta isn't alone. As inflation rises and home budgets tighten, even the well-heeled are thinking of ways to recycle food and avoid wastage. Sambar with water melon rind, pulavs with last night's sabzis and cutlets from left-over fish are making a comeback with vehemence.

Nearly 12 kms away, Chef Deepa Awchat who runs the Diva Maharashtracha, Goa Portuguesea and Culture Curry restaurants pulls out a large degh half-filled with leftover mutton curry. "I'd made this yesterday and my family praised it to the skies. Yet today if I serve them the same, they'll fuss and make faces about eating the same thing," she says while separating the meat from the gravy.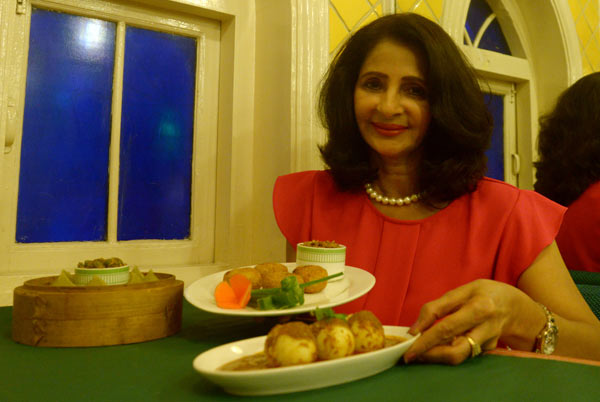 Chef Deepa Awchat

She beats an egg and adds it to the gravy which is then set on heat. While it begins to simmer, she adds a few chopped boiled eggs to the pot, puts off the flame but leaves it on the gas stove. Like Mehta, Awchat too says the approach should be like it is a new dish. "Surprise always works. While the aroma and flavour suggest mutton curry, egg blends in to change the whole taste," she says and adds, "Using the right kind of bowls, plates and cutlery depending on the way one has tweaked the dish only enhances the experience."

While she's serving an early dinner soon afterwards, she advises keeping everything mis en place. "Boiling the curry last minute and pouring it over chopped boiled eggs gives it a different twang."

The de-boned mutton is stuffed into boiled and mashed potato and pan-fried creating a completely different dish. "This can be done with any left over sabzi too and can actually be made and kept in the fridge. These can be pan-fried just before serving," says the chef who has another surprise element planned. Left-over cashew-green peas sabzi is stuffed into rice flour modaks which go into the steamer.

While they steam, she sits down over a cup of tea and makes it look effortless. When asked whether she uses any of this in her fine dining restaurants, she shakes her head. "Since we serve everything la carte it is impossible," she says but admits such recycling is not uncommon in places which serve buffets.

"If you love your food, you will find ways of doing interesting things with it. While coconut milk for non-vegetarian and cream or cashew paste for vegetarian dishes would help turn over Indian recipes, with western ones its amazing what a little butter or cheese can do. After all seeing someone relish what they are otherwise not eager about has its own kick."

Recipe: Cowpea-quinoa salad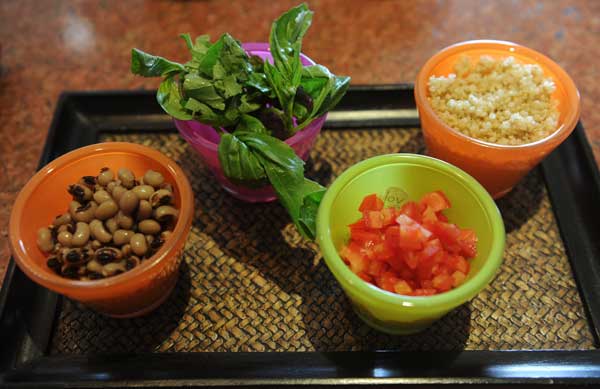 Ingredients:

Leftover cowpeas (or any other pulse with hulls intact) one cup

Cooked quinoa (1/2 cup)

Freshly chopped tomatoes (½ cup)

For the vinaigrette: Extra virgin oil 2 tbsp, lime extract one tbsp, freshly crushed pepper and salt to taste whisked together nicely to blend

For the dressing: Fresh basil, one tbsp, torn with hand

Method: Toss the cowpeas, quinoa and tomatoes in a bowl leaving aside a little. Pour the vinaigrette and toss again. In the end lay out the ingredients kept aside to give the dish a good look and garnish with basil.

(Tip: For a hot day, add a cup of chopped cucumber to give the salad a 'thanda-thanda' feel)

Recipe: Cowpea-apple salad

Ingredients:

Leftover cowpeas (or any other pulse with hulls intact) one cup

Peeled and chopped apples on which lime has been applied to prevent blackening (1/2 cup)

Freshly chopped tomatoes (1/2 cup)

Freshly grated coconut (3 tbsp)

Extra virgin olive oil (1/2 tsp)

Fresh cilantro (1 tbsp)

Salt, red chilli powder and chat masala (to taste)

Method: Toss all ingredients except the cilantro together and mix well. Now garnish with cilantro.

Recipe: Moong dal paratha

Ingredients:

Leftover moong dal (or any de-husked pulse) dry sabzi cooked with asafoetida, turmeric and red chilli powder (1 cup)

Whole wheat flour (2 cups)

Water (one cup)

Oil (2 tbsp)

Salt to taste

Fresh thick curd (I bowl)

Method:

Knead dough with the water, flour and salt

Mash the moong dal sabzi nicely so that the grains don't stand out.

Make small laddoo-sized balls of the dough and let them stand for 8-10 minutes.

Roll out thick parathas with a rolling pin using dry flour to keep it from sticking.

When it is the size of a puri, use the mashed moong dal sabzi as stuffing, pack it all well inside and roll it out again. This time make it as big as a phulka. Once they are all rolled out use oil sparingly while cooking them on a hot griddle.

Serve hot with curd and pickle.

(Tip: Those who want can roll out smaller stuffed puris for deep frying)

Recipe: Egg curry from mutton gravy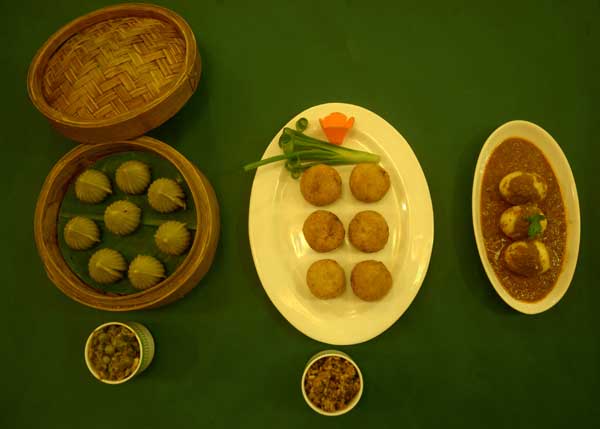 Ingredients:

One dish of left over 250 gms mutton curry

One raw egg

Four boiled eggs

Sprigs of cilantro

Method:

After separating the pieces separately, break the raw egg into the curry, whisk a bit and keep on the boil.

In a dish lay out chopped eggs and ladle the gravy over, garnishing with fresh sprigs of cilantro.

(Tip: To make it look good chop one egg lengthwise and keep it with the yellow upwards. Don't ladle curry over. This will make it stand out in the dark brown gravy.)

Recipe: Mutton pattice

Ingredients:

Leftover mutton from the curry (250 gm)

Four large potatoes boiled, peeled, mashed together with salt to taste.

Green peas (One small bowl)

Oil (2 tbsp)

Method:

Debone the mutton and mash it well with a ladle.

Use the potato dough to create small balls and stuff it with the mashed mutton.

Flatten a bit and pan fry till well done on both sides and serve garnished with stir-fried peas.

Recipe: Modaks with green peas & cashew

Ingredients:

Leftover cashew and green pea sabzi for stuffing (4 cups),

Oil (3 tsp), Rice flour (3 cups), Water (6 cups)

Method:

For rice dough, boil water and oil and remove from heat. Add rice flour, cover and allow to cool. Later knead well.

Make balls of the rice dough.

Make a small hollow in the centre and place the stuffing in the middle.

Now join the open edges together and shape it like whole garlic.

Steam these modaks for 10 minutes, take off and serve hot.

(Tip: Serve with any hot chutney for extra twang)

Photo credit: Swapnil Sakhare, Kishanu Nagar