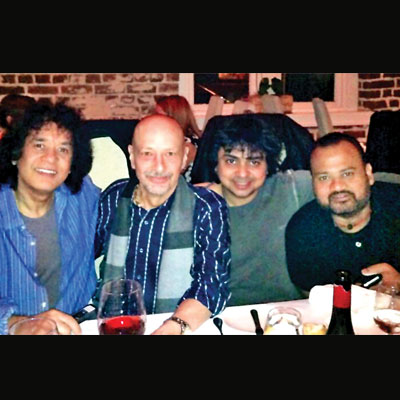 He's a veteran of hundreds of international performances but this one is probably even giving Ustad Zakir Hussain, a few butterflies. The tabla maestro is prepping for a landmark show at New York's iconic Madison Square Garden, this Saturday in the company of some equally amazing talent including kanjira specialist, V Selvaganesh, international drummer, Steve Smith and sitar maestro, Niladri Kumar. With a sell-out crowd expected and the New York Times dishing out rare superlatives in its preview of Masters of Percussion, they were a bunch of super-charged and super happy musicians till Murphy's Law decided to kick in.
Niladri Kumar was almost in tears when he discovered that his sitar had been badly damaged during the transit from Mumbai to New York because of mishandling by Emirates' cargo attendants. "They have ruined my tour even before it started. I am playing my sitar with super glue and black scotch tape, and it is unbelievable at this level," he rued. While the music company which has organised the New York tour has called the airlines' attitude "shameful and scandalous", Niladri's anguish has also raised the ire of his fellow musicians including Zakir himself, who had to learn the hard way that many airline staff roughly lug musical instruments instead of treating them like highly fragile cargo.
For an artist, the worth of his personal musical instrument can't be measured in money alone. A few years back, the then civil aviation minister Praful Patel, had personally apologised to Ustad Amjad Ali Khan, after his sarod was damaged during an Air India flight from Ahmedabad to Mumbai, forcing him to cancel his scheduled performance at the Fine Arts Academy. On the bright side, perhaps Air India can draw some solace from the fact that even the more highly rated international carriers are actually no better.