The East Indian community marries its religion and culture together, bringing a completely unique flavour to their Christmas celebrations, finds Yogesh Pawar.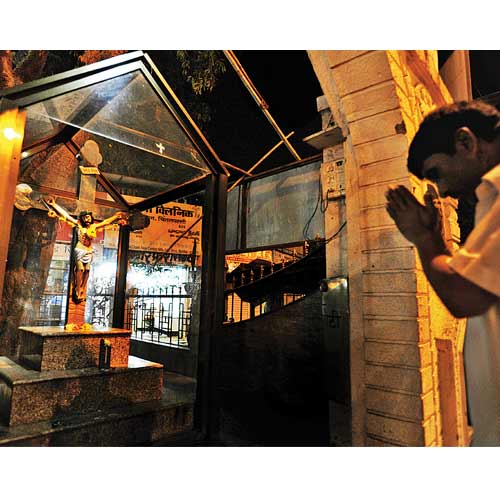 Neej re Krista, neej re Krista, maauli Mary halvite tujho paalna* (Hush and sleep, oh Baby Jesus, says your mother who rocks your cradle," sings Paul Rumao as he watches 75-year-old Teresa Fernandez make a Christmas crib. In what is a time honoured tradition, he's singing in Kadodi, or Samvedi Boli bhasha, the Marathi dialect spoken by the East Indian community, believed to be the original inhabitants of Mumbai and its surrounding areas.
"Regardless of the language you address him in, god understands love and devotion," says Rumao, who has documented several such songs in a book.
There are 450-year-old records to show how the East Indian community has lived and owned most of the land in and around Mumbai, long before other "upstarts who now call themselves sons-of-the-soil" came in and claimed it as their own.
"You will still find East Indian families in Colaba, Mahim, Bandra, Parle, Amboli onwards until Virar-Dahnu in the west and Kalyan on the central line. The lands of these original residents of Mumbai has been taken to build virtually every public utility, whether it is the airport, the railways or roads," says Father Francis Correa, 72, of Vasai who has penned over 25 books on the socio-cultural history and legacy of the community.
"The kolis (fisherfolk), vadvals (horticulturists), kumbhars (potters) and Samvedi Brahmins (who had settled in this belt from Saurashtra and Rajasthan) already had a rich oral tradition of folk music, language and culture. Though they converted to Christianity in 1560, they never gave up their attire or clothes," he explains. "This extended to the way they worshipped too," he adds.
The memories of how it was earlier still live on.
"I remember going by a boat as a young girl for Christmas to my extended family in Uran via the Mithhi river, which flowed through fields and mango orchards in what is now the Chhatrapati Shivaji International Airport," says Clara Tixera, 86, who lives in Juhu gaothan ( portion of village land).
Clara sings a folk composition, in which all the animals in the manger take turns to pacify Infant Jesus and make him feel welcome.
"The narrative in these compositions resonate with nuances from the local community's lifestyle.
It gives us an indication of how deeply interwoven the religion they converted to became with their living," says Correa.
Across the city, in what was once a thriving Central Mumbai Christian belt, extending from Dadar to Prabhadevi and Worli, East Indians are hard to come by. The only remnants are the many grottos and crucifixes from a bygone era, a time when Worli and Mahim were fishing villages. One such crucifix in Worli — in a corner of the street leading from Doordarshan Kendra to Elphinstone Road — is being being lit up for a special satyanarayan puja on Christmas. In an acknowledgment of India's thriving syncretic culture, the largely non-Christian devotees, who throng the shrine through the year in the belief that it fulfils every prayer, are busy decorating the shrine.
In fact, the shrine is called Siddhibaba after the many "miracles" it is believed to have engineered.
"The East Indian Koli Christians have long gone but the textile worker community which settled here adopted the crucifix," says 78-year-old Atmaram Parab. In his one-room house in BDD Chawl, a photograph of the shrine jostles for space at the altar alongside those of his Hindu family deities. "When I was struck with paralysis, I thought I'd never walk but Siddhibaba cured me," he says with tears in his eyes.
Sociologist Nandini Sardesai feels such instances of secularism surviving in a rapidly polarising city should be encouraged. "As long as it doesn't create dogma and blind belief, we need to find, document and celebrate such narratives."
In the humble Worli gaothan home of Teresa Ferandez, 76, Christmas celebrations have always had a local flavour right from the crib (a dhoti-clad Joseph and Mary in sari with her head veiled).
"I make an offering of rice, fruits, a coconut, a sari and blouse-piece, a veni (flowers strung in traditional pattern) and bangles to Mother Mary every Christmas," says the feisty Teresa who believes that Mount Mary from Bandra, the Virgin Mary and Sitaladevi from Mahim, Mahalaxmi from Worli and Mumbadevi are the five sisters guarding Mumbai.
"How else do you think a small fishing village prospered and became such a thriving city?"
Always draped in a traditional nine-yard chequered lugda sari and white veil, the gnarled matriarch disapproves of the youngsters sartorial choices. "They speak English at home and wear shorts and T shirts even to church. Who would've thought things would come to this?" she asks.
"As more and more members of the community speak English, fewer youth talk the dialect. This is worrying because by its loss a whole way of life will be lost to us," says Correa.
Sunil D'Mello of Virar who runs the East Indian quarterly Kadodi says there are many like him who feel concerned about what is happening to their mother tongue.
"After all it is not merely a spoken language but a bridge that connects us to our ancestors. Given how religious our people are, I have decided to use occasions like Christmas and Easter to propagate the language and pride in it among youth. The response has been invigorating to say the least. And what's more its growing, which is why I do not want to give up hope."