Shopping has become a popular pastime for international visitors to California, with travelers searching for the perfect items and comparing finds with the enthusiasm of competitive sports fans. From the fresh produce and local gourmet specialty foods at farmer's markets, to designer wear at outlet malls and handmade bowls at artist enclaves, visitors can find what they're shopping for in California. We share with you 6 high-end shopping destinations in California:-
There is nothing quite like Rodeo Drive. This spectacular stretch of designer boutiques running through the heart of Beverly Hills is one of the quintessential shopping experiences in the world. Here's where the rich and famous or just plain rich pick up baubles, bangles, cocktail dresses, and designer stilettos from places like Chanel, Cartier, Tiffany and Co., Fendi, Armani, and pretty much any other boutique with style. The famed shopping street is known throughout the world as the epicentre of luxury fashion. Rodeo Drive stores span three city blocks where visitors can enjoy more than 100-world renowned boutiques and hotels.
Located in Palm Desert, the world famous El Paseo Shopping District features over 300 world-class shops, clothing boutiques, art galleries, jewellers, restaurants and much, more, all lined along a beautifully maintained picture-postcard floral and statue-filled mile! Known as the Rodeo Drive of the Desert, El Paseo boasts a wide spectrum of stores from Sak's 5th Avenue to individually owned boutiques.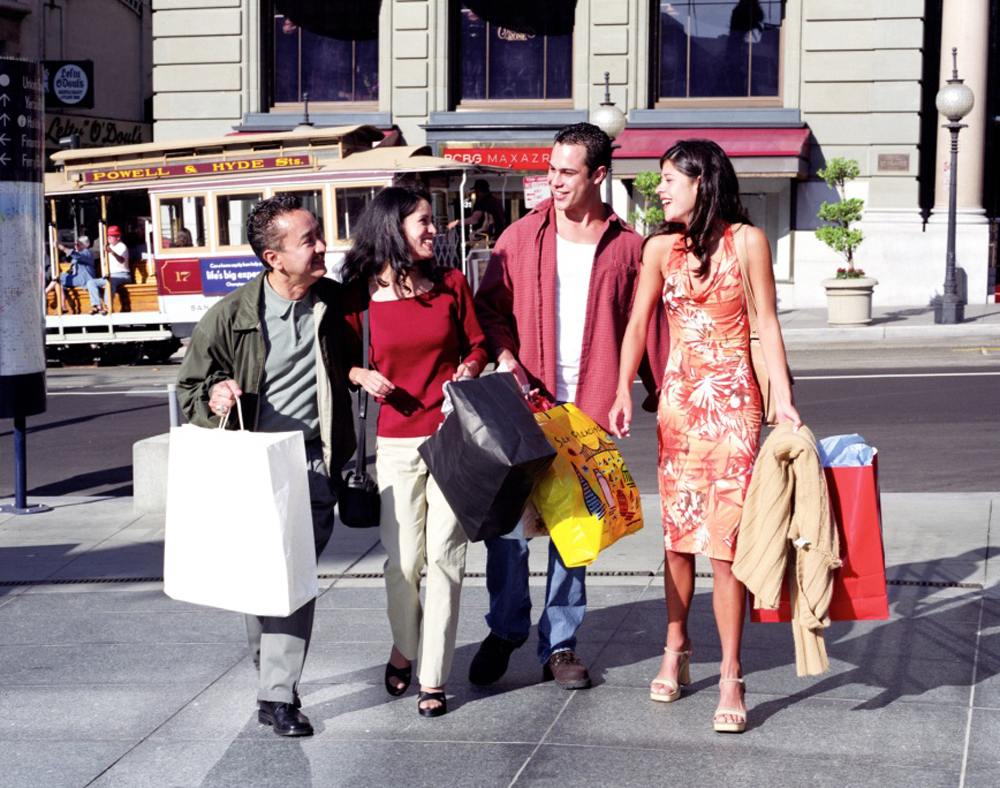 San Fransisco's Union Square is at the heart of the West Coast's best shopping district- Jack Hollingsworth/ San Fransisco Convention and Visitors Bureau
The Gardens on El Paseo features: Anthropologie, Aveda, Bare Essentials, Bellissimo, Brooks Brothers, Coach, Cole Haan, Eileen Fisher, Louis Vuitton, Pacifica Seafood Restaurant, Tiffany & Co., Tommy Bahama's Restaurant & Bar, True Religion Brand Jeans and Williams-Sonoma,.
El Paseo Village features these exclusive retailers and restaurants: Apple, banana republic, bebe, Between The Sheets, Lucky Brand Jeans, Juicy Couture, Kate Spade and Janie & Jack. Coming soon to El Paseo Village: Mastro's Steakhouse.
California is home to many enormous malls, such as South Coast Plaza in Orange County, boasting hundreds of upscale retailers in one place. Its retailers – including five major department stores – range from inexpensive accessory stores (Claire's) to high-end boutiques (Chanel). The plaza's new Mocca. There's even more to discover in the area, like the fiendishly pink cocktail lounge Harry Denton's Starlight Room at the top of the Sir Francis Drake Hotel and the towering Cheesecake Factory restaurant right on the square. We doubt you'll leave empty-handed.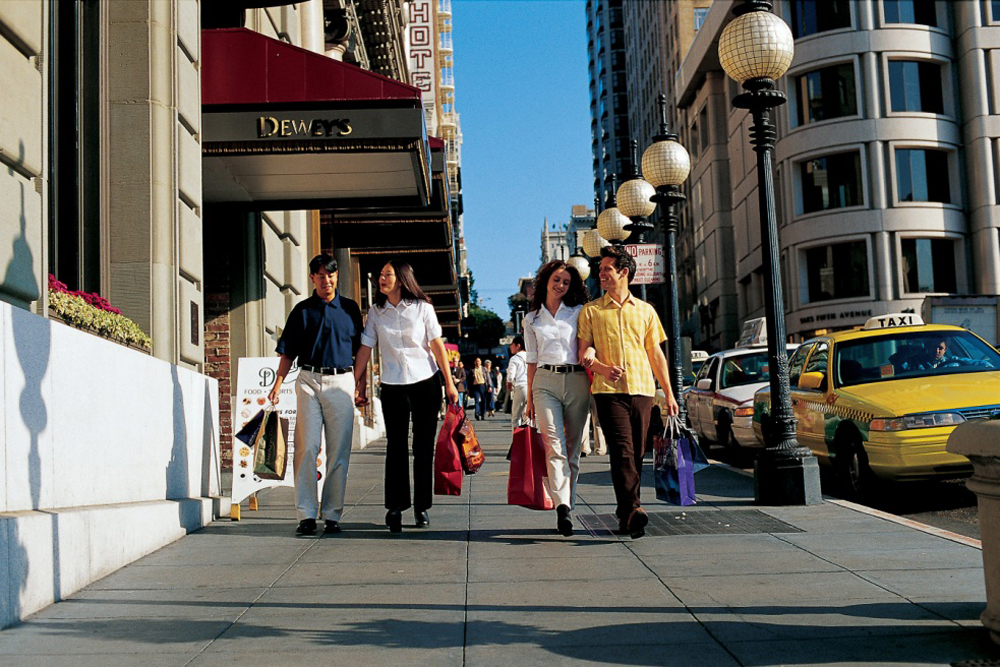 Spend the day in Union Sqaure, one of the country's premier shopping destination- Jack Hollingsworth/ SFCVB
Take a ride on the cable car located at the cross streets of Powell and Market and head to Fisherman's Wharf, Ghirardelli Square and back again for some more shopping! Stop while you are there and sample the infamous Irish coffee at the Buena Vista. Enjoy an exhilarating ride up and down the hills of San Francisco, wind gusting through the historic Cable Cars— gussied up in all their glorious San Francisco tradition.
Shopping at The Grove, Los Angeles: This is the place to shop.
There´s nowhere like it. In fact, there´s nothing even close. The Grove proudly offers the hottest, newest fashions, the must-have gadgets, the dreamiest beauty products, the most gorgeous decor, the hippest furniture, the niftiest home ware. We could go on. But you have a lot of shopping to do. The Grove is filled with unparalleled stores like Anthropologie, Apple, Michael Kors, Coach and Nordstrom. Guests are enamoured with the old-fashioned trolley rides and magnificent dancing fountains that have become a "must see" in Los Angeles. Also, see Extra! With Mario Lopez, filming daily.
La Arcada Santa Barbara: Tucked away in the center of Santa Barbara lies a piece of Santa Barbara history and one of its most unique jewels. In true Santa Barbara style, with entrances on State Street and Figueroa, La Arcada is a quaint and charming substitute for the larger malls. La Arcada boasts some of Santa Barbara's top restaurants and art galleries as well as hosting a number of retail boutiques and services. Tile-lined walkways, fountains, sidewalk cafes and beautiful sculptures decorate the lush landscapes. Above the street level courtyard, La Arcada is also home to many businesses and firms.
For more information please visit www.visitcalifornia.in