If you are a teenager and smoke, drink and umm… have many 'close' friends, make sure your parents haven't set a private investigator on you.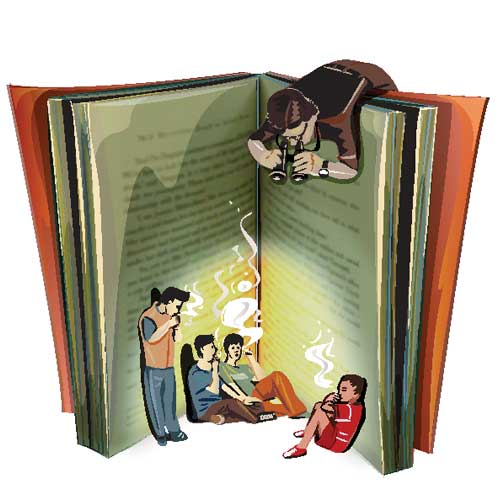 Mumbai resident Rajesh Kumar (name changed) was shocked to find a pack of cigarettes in his 14-year-old son's school bag. He confronted the teenager but was met with staunch denial. "He said it was a prank and his friends were trying to get him into trouble. I didn't want to say I didn't trust him, so I let it slide that time," says Kumar, one half of a working couple.
He also suspected that his son was lying to him about where he was spending his time after school but there was no way to find out.
After numerous attempts to coax his son to open up, he decided it was time to call in the professionals.
He didn't have to look far. A simple Internet search threw up around 50 private detective companies in the city that offer a service called 'teenage monitoring'.
"We have all been kids, of course they are up to some mischief but children today have access to a lot more things than we did in our day. It worries me to wonder what else he is up to that I don't know about," says Kumar, who complains that long hours make it difficult for him to keep track of what's going on at home.
Playing eye-spy
"Parents often want to check if their child is smoking, visiting pubs, having an affair with an older woman/man, driving recklessly, doing drugs or plain lying about his/her whereabouts," says Wahid Ali Sheikh, director of Mumbai-based Spark Investigations. In most cases, parents simply want to know the child's daily routine and if they are bunking class.
Sheikh says he gets 8-9 cases a month. Clients include parents of children aged between 14-21 years, 60 per cent of whom are boys. Priya Chavan, of another agency, Spy Zone, says she has been asked to spy on children as young as eight.
Spark Investigations functions out of a cubbyhole in a desolate shopping complex in Borivli. Sheikh's team of 26 investigators include college students looking for
part-time work.
His agents use dummy accounts to befriend the subject via social media sites. "College students come in handy here. They are closer to the age of the subject and are less likely to blow their cover.
The 'agents' find out whether the subject has a love interest by either flirting with them or bringing it up in conversation. Again, college students doubling up as agents come useful here.
However, spying on kids is still not his main source of income. Sheikh says he gets most of his revenue from investigating cases of extra-marital affairs. He gets about 15 cases a month on an average.

Spy gear sells online
Chavan has been running her detective service for five years now. She says her job is made easy because of the profusion of spy gadgets in the market. Parents are not afraid to use such gadgets. In fact, they demand it, she says.
"Parents usually want video evidence. Mostly to confront the child later but also because they don't want to believe their child is going astray," she says.
If the client agrees, investigators even arrange for their homes to be bugged and fitted with spy cameras. Investigators also install call tracking software on the child's phone and use spy cameras to capture images and video of the subject outdoors.
It's clear that not all methods are legal.
Investigators agree they function in grey areas but say they protect their backs by getting written consent for all the services, legal and illegal, that are offered. Clients sign a waiver that the footage belongs to them that protects investigators from any responsibility in case any compromising footage is leaked.
"We hand over all the evidence in form of images, video, audio clips and a detailed report to the client and step back. They can choose to confront their kids but we aren't involved with what happens next," says Chavan.
The cost of such spying depends on the client's requirements and starts at Rs35,000 at Sheik's agency. Chavan charges Rs4,500 a day within city limits.

James Bond-style parenting
Dr Avinash DeSousa, a psychiatrist who specialises in child therapy, says such snooping is probably the last resort for parents but can be avoided if they try to maintain an open relationship with their children. "Experimentation is a part of adolescence and you can't be surprised by that. Either talk to children about smoking, drinking and sex and make it clear that no matter what — you have their back," he says.
But sometimes snooping can prevent things from going out of control.
In one case, investigators were able to bust a gun racket involving teenage children of high profile parents. The parents intervened before the cops got involved. This helped them avoid controversy, not to mention a potential jail sentence for their kids.
But doctors suggest snooping on children will not yield much help. Setting a private eye on your child tells him or her that you don't trust them, says Dr DeSousa. "If you treat your kid like a criminal, he is going to be looking over his shoulder forever."