Romila Thapar's latest book challenges the Hindutva interpretation of history and tackles a range of issues that have been the centre of many a controversy in these intolerant times, says Gargi Gupta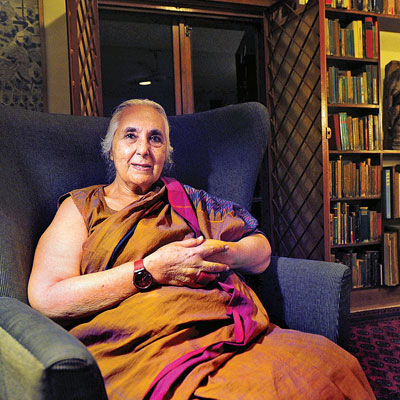 Given what happened to American scholar Wendy Doniger — whose two books on Hinduism were recalled by publishers — this may not be the best time for controversial works, however solidly researched they might be. But historian Romila Thapar, no stranger to rabble-rousers backed by politicians attempting to smother opinion, has once again challenged the Hindutva interpretation of history in her latest book.
She was at the receiving end of such tactics, first in 1978 (when Janata Party's Morarji Desai was prime minister) and later in 2002 (when the Bharatiya Janata Party's Atal Bihari Vajpayee headed the government).
That was when the ruling dispensations tried to 'revise' or 'ban' two textbooks on ancient and medieval Indian history written by her because they mentioned that ancient Indians were beef-eaters, that Aryans were not indigenous to India and that all Muslim rulers may not have been oppressors.
That unpleasant experience of "being personally abused, being called 'anti-national', 'academic terrorists worse than the cross-border variety' and 'perverts'," as the book puts it, hasn't deterred the 82-year-old, widely renowned as an authority on ancient Indian history.
Neither has it dimmed her enthusiasm for the "right to debate interpretations of history", as is evident from The Past As Present: Forging Contemporary Identities Through History, launched early this week.
This is a book of essays written over the years in newspapers and news magazines, and updated to reflect recent developments. It's a rare instance of an academic explaining recent developments in history in the light of archaeological finds and scientific analysis for lay readers.
Thapar tackles almost every issue where history, ancient or medieval, has been at the centre of a controversy because it has thrown up views that have contradicted one pressure group or the other. For instance, the contention that Hindus were forcibly converted to Islam by Muslim rulers, that the latter, especially Aurangzeb and Mahmud of Ghazni, had a penchant for destroying and looting temples such as Somnath, that 'indigenous Aryans' laid the foundation of Indian civilisation, that women were all immensely respected in ancient India.
Thapar's contention is that the Hindutva interpretations of history draws on colonial history, which was a handmaiden to the British imperial project, and thus biased. Colonial historians like James Mill divided Indian history into the Hindu, Muslim and British periods and gave credence to the two nation 'Hindu-Muslim' theory, she posits. "This has been taken over by Hindutva ideology in which the enmity of Hindu and Muslim is foundational," she writes. But this history was constructed, either by ignoring certain testimonies or misreading others.
Thapar gives the instance of Somnath, the temple on the Gujarat coast looted by Mahmud Ghazni that Hindutva ideologues bring up as evidence of Muslim perfidy, to show how these narratives of history are constructed. Sifting through contemporary and later chronicles for references to the looting, Thapar finds little to support the theory of "Hindu trauma" through the centuries until 1842 when the British House of Commons debated the issue and Lord Ellenborough, then governor-general of India, offered to bring back to Somnath the sandalwood gates from the tomb of Mahmud of Ghazni. Ironically, after they'd been uprooted from Ghazni and brought to India, the British found that they were of Egyptian origin and had nothing to do with India.
Given how emotive these issues continue to be and the possibility that this election might see the ascendance of Hindutva elements, Thapar's book cannot but be seen as a timely exercise — a reminder of the battles fought that could well be a precursor to what lies ahead. "It's timely, yes," Thapar accepts, leaning back in the sofa of her sitting room in her Delhi home which is is tastefully done up with a lifetime's accumulation of artefacts that bespeak her scholarly interests.
But the timing, just before the elections, she insists is "pure accident" since it rose out of negotiations with David Davidar of Aleph publishers back in September-October last year, when elections were yet to be announced.
"One hopes that people will read it. The excitement of elections is now veering into questions of vote-banks and numbers and seats… The issues over which elections are normally fought and campaigns take place, those seem to be absent generally."
Given the vitiated atmosphere, is she not afraid that her book might meet the same fate as Doniger's? "One just hopes that the publisher one has gone to will be courageous and stand up to this kind of onslaught on books," Thapar says.
But wasn't Aleph one of publishers that agreed to withdraw Doniger's On Hinduism under pressure from Dinanath Batra of Siksha Bachao Andolan Samiti (SBAS)? "No, it hasn't been withdrawn. It is in circulation and is being sold. What they have done is set up a panel of four scholars to go into the complaints that were made by SBAS. In the course of that if there are serious matters, there will be a discussion between the SBAS, the scholars and Doniger to see whether some agreement can be reached.... I think, the real test will come after that if the SBAS insists on going to court and demanding that the book be withdrawn. Then it is a question of whether Aleph will go to court and fight it, which I hope they will."