CR Pakrashi, who has been designing stamps for six decades, speaks to Anam Rizvi about the exacting craft of creating stamp-sized memorabilia of the times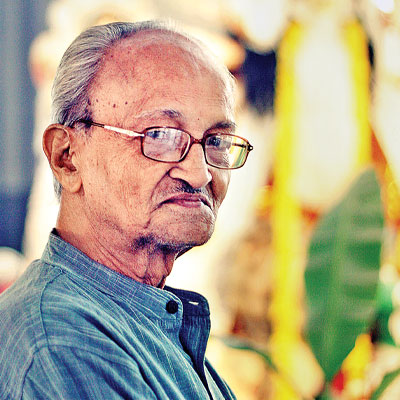 The year was 1956. A junior artist at a government organisation came across an advertisement asking for entries of a stamp to be designed for Buddha Jayanti. CR Pakrashi was scrambling for time, but he sent his design in somehow. A few days later, he was told he had won the competition. And life changed with Pakrashi going on to design many more stamps and getting, well, stamped as a designer.
In 1969, his entry won the Gandhi Birth Centenary stamp designing competition; in 1972, he won the contest to commemorate the 25th anniversary of India's independence. In a six-decade career, Pakrashi has designed 56 commemorative stamps. He has also organised India's only stamp designing competition at the Indian Museum in Kolkata in 1999.
Pakrashi is 94 now but his love for the craft remains undimmed. He recently published a book, A Stamp is Born, relating his experiences and also delving into the history of the postage system in India. "It was an important part of people's lives at a point of time and people want to know about it. Communication has become absolutely immediate nowadays and people will want to know about the past."
"When we were younger, people were excited when a letter arrived and everyone would want to know its contents. All this history will be lost, and this is what motivated me to write A Stamp is Born," he says. Pakrashi took nearly 10 years to complete the volume.
The artist, who has only designed commemorative stamps, explains the difference between definitive stamps and commemorative ones. "Commemorative stamps are issued only on a particular day to celebrate an occasion, to mark an anniversary, to pay a tribute etc. Definitive stamps, on the other hand, are the ones used by us commonly. As commemorative stamps grow scarce, their value increases manifold and thus they are difficult to find," he says. Stamp collectors, take note.
Trained in commercial art at the Government School of Arts and Crafts in Kolkata, Pakrashi became a stamp designer but continued to work as a government employee. "When I was commissioned work, I needed permission to work on the stamp designs and also to obtain payment," he remembers.
He has designed stamps for the Indian National Congress' centenary, Jawaharlal Nehru's centenary year, the 11th Asian games in Beijing and many more. But the stand-out favourites are the ones he made on JRD Tata in 1994 and the Congress centenary one. "The latter had a very colourful history and it was by itself a beautiful multi-coloured design. As for the former, I had no reference for it and they sent me the material and books and provided inputs from time to time. A very good
design emerged."
There were times he got just three to four days to work on a design — as was the case when he made a Jai Bangla stamp — but some like the Congress centenary one took up to a year.
"I have designed stamps for Mauritius and Lao People's Democratic Republic too," he says. The government of Mauritius, he recalls, had asked the Indian government to select an Indian designer to make a stamp to be released for the second world Hindi convention in Mauritius in 1976. Pakrashi was the man chosen for the task.
In 1999, while Pakrashi was visiting Kolkata, he was invited to organise a stamp designing exhibition at the Indian Museum. "It took place within a week, and the response was wonderful. My stamps and designs were displayed and many people visited from various parts of Bengal."
Though the postage system is going out of favour, the craft of designing stamps remains unique, says Pakrashi. Commercial art promotes a product or commodity, but stamps deal with lofty themes and the country. It's also a tough, exacting craft. "Stamps are tiny and explaining a concept is difficult," explains Pakrashi.
In the days of instant communication, the minuscule pieces of paper may well become redundant. But the art will survive and be cherished as memorabilia of the times.