Celebrate the subtle nuances of the woman that's bitten by the travel bug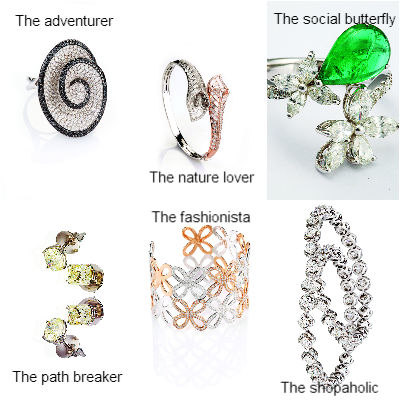 She is an adventurer, a path breaker, a nature lover. She is not afraid to let her hair down and enjoy the finest that life can offer. She is a fashionista, a social butterfly, a shopaholic. Nothing can stop her, and nothing should. The seemingly simple yet enigmatic woman of today loves to travel, and she carries with her, the many avatars that make her what she is.
As the summer heat simmers down with the weather bringing promises of sweet rain, she is ready to pack her bags and travel to the most exotic and exciting places, be it on the home turf or overseas. And when it comes to travel, it is imperative to be armed with the essentials, yes even style-wise. We assess the various avatars of the modern-day woman and what jewellery would complement her best.
The adventurer
Plain and easy is not her style. She likes to rough up things a bit, as that brings out the best in her. Her travel plans are full of adventure and she doesn't allow anything to come in her way. Certainly not heavy-duty bling. A classic spiral ring studded with white and black diamonds is right down her alley.
The path breaker
Be it social entrepreneurship or volunteering at a school, the path breaker likes to take the road less travelled, literally. She is a no-fuss woman who likes her bling to speak the same language. Simple yet elegant, a pair of solitaire studs would add a touch of grace to her ears.
The nature lover
She loves to surround herself with nature, be it with the lush green forests of the tropics or the gentle creatures that reside within them. A lover of nature will appreciate the beauty and aesthetics that are ingrained in each creation. A white gold bracelet inspired by the Cala Lily flower would charm her.
The fashionista
Her lifestyle resembles much like a fashion runway, speckled with stardust and glitzy lights. While she may follow trends or be a trendsetter herself, she likes to stay ahead of the game, even when she is on the go. She likes it bold, and she likes it sparkly. A chunky cuff with a floral design set in diamonds will be her new best friend.
The social butterfly
She loves to flaunt her bling and be the cynosure of all eyes, no matter where she goes. She spills opulence not just in her outfits but also her jewellery. That is why a floral diamond ring with a pear-shaped emerald is a jewelled piece that will match her persona.
The shopaholic
She is an outdoorsy girl, for sure, but she is not made for the hills and oceans. Her turf is strictly limited to the biggest and brightest cities of the world, where she loves to buy whatever her heart desires. A princess cut Eternity bangle is bound to keep her interested.
—Compiled by Shraddha Shirodkar