Pooja Bhula who set out to try mouth-watering roadside sizzlers, is marvelled by how much more she gets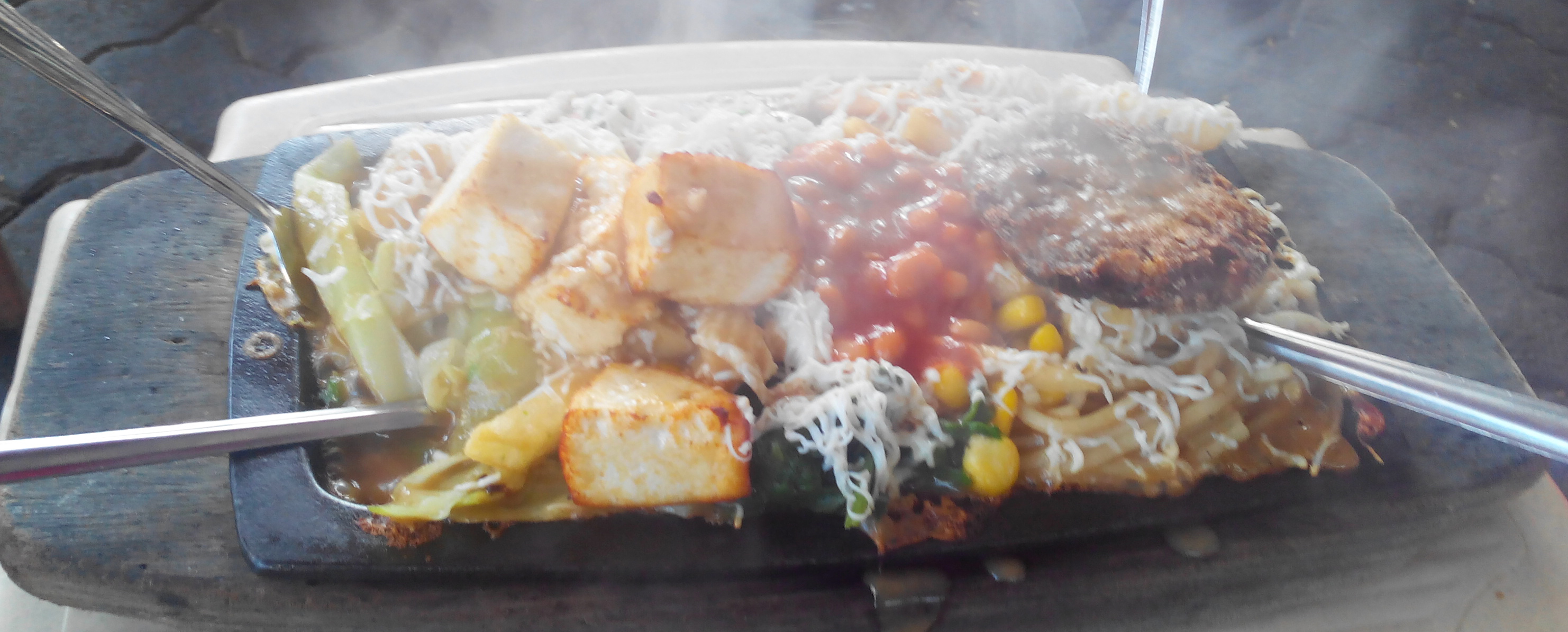 I over-ate again! Like everytime, even this time I promised myself "I won't". But with an interesting menu and yummy food staring at me, how could I resist? And just so you know, this trip to Ghatkopar (near Vikrant Circle) to eat sizzlers off the street materialised after months of waiting. I expected a hawker's stall, but the set-up of Blossom Juice and Snacks is more akin to a booth. While like MAFCO or Aarey, it is also on the sidewalk, unlike them it provides plastic chairs and tables for comfort and is open from 4 pm - 2 am. On a sunny Mumbai afternoon, the extended roof covering the on-the-road seating area feels like a blessing.
While the tantalising aroma of local, international and fusion foods being served to others fills the air, I focus on the menu's sizzler section with the familiar names: Veg. Sizzler, Veg. Satellite, Paneer Shaslik and the not-so-familiar Club Sizzler, which to my delight combines the first and third and adds baked beans as a bonus. Sauces to choose from include chilli coriander and variants of garlic and pepper.
Even if you're with a friend, waiting can be boring. But several laminated posters (pasted on the booth) carrying the owners' words of wisdom, albeit in broken English, will keep you hooked. One titled "How Smart We Are" takes a dig at sophisticated customers who litter and waste without concern for the environment and also those who distrust filtered water and glasses used at small eateries, but don't check the cleanliness of straws or expiry date of packaged water. Another gem of a poster warns snooty snobs to stay away.
15 minutes were up and the steaming sizzler arrived on a wooden platter with forks and spoons. Every bite of every bit–the noodles, veggies, patty, potato chips–was well cooked; the paneer was so soft that it almost melted in my mouth and my garlic pepper sauce didn't overpower other flavours. The sumptuous offering (at Rs.280) compares with any you'll find at sizzler restaurants across Mumbai.
Ending it there would have been the right thing to do, but the Pune Sandwich didn't allow us to. As claimed, the bread was very soft, but the presentation was more striking–sitting on a long, rectangular, wooden dish (similar to ones used to serve sushi at restaurants), the sandwich pieces had their sides turned-up treating us to a feast of colours: green chutney, red tomatoes and grated cheese for garnish. Temptation is the devil, what can I say? There was Hariyali Pav Bhaji and Mari (pepper) Pav Bhaji on the menu as well. I requested the staff to allow me to sample just two spoonfuls of each sans the pav and sensing my enthusiasm they did. Hariyali Pav Bhaji (green onions, green garlic, green peas and green tomatoes), without the thencha and lime it is usually served with tasted like a sabji, but the Mari (pepper) Pav Bhaji I loved. I licked it off the plate, which again, wasn't the run-off-the-mill kind, but a cute little, two-sectioned, white, oval plate.
Why am I not surprised?
The place has unusual written all over it from the names of juices and milkshakes–Ooops,Yummy, Mogambo, Monalisa, Chashme Baddur, Zebra, Pink Flamingo–inspired by quirk, wildlife and movies to the last page of the menu card, which reads, "All products are served with high quality standard. Water: R-O Purified (without ICE). Sauce: Cremica. Frying oil: Ricela. Butter and cheese: Amul or equivalent. Cleaning of crockery: Washed at 50°C in IFB dish washer." The final lines–"Product if returned after first bite, won't be charged for. And if quality not w.r.t price, pay what you like." Unbelievable right?


Turns out the owner, Manish Bilakhia is a civil engineer, he abandoned his interior designing career in 2003 to pursue his passion for food through Blossom. "My motto is to serve something unique, while giving priority to health, hygiene and the environment." He serves pizzas only with wheat bread, no maida and soon plans to introduce Black Missal. The sev, boondi and batata wada batter have specially been prepared with nachni and they all come together in a spicy black sauce. Having sampled it, I can vouch that it's tastier than any I've had, even Shri Datta Snacks at Panvel. There several other unique offerings to try, but I didn't want to burst.
Manish tells me, he always hunts for unusual cutlery and when he can't find it, he designs it himself. To go with some of his molecular-gastronomy-type offerings, he sometimes custom-makes machines too. Well, that explains all presentation. And pre-cooking, which was earlier done at his house, is now done at his new base kitchen in Vikhroli, fully equipped with chopping, shredding, sterilizing and cold storage machines. He started it to support the restaurant version of Blossom that he plans to open in Bandra Kurla Complex (BKC) in Mumbai on March 18, 2014.
I went looking for good food and what a treat I got!