After downing a potent shot of the fiery, cobra snake wine in Luang Prabang, Raul Dias lives to tell the tale.
She raises a bony, gnarled finger and points to her wares that are glinting in the torrid mid-day Laotian sun. And then she does something strange. She touches her nose. It's as though the tiny, old Hmong tribal lady can read my thoughts. Suffering for the last few days from a severely blocked nose—in the middle of perhaps Laos' hottest summer—I need a remedy really quick. But the treatment she's recommending is anything but appealing. Try revolting!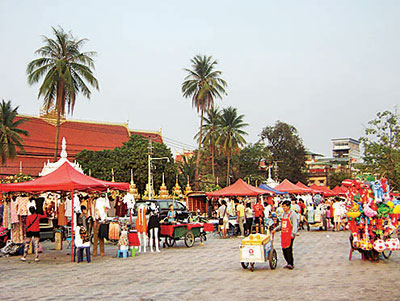 Hmong Market
Surrounded by bottles of every shape and size, their bowels stuffed with coiled serpents floating languorously in a deep amber-hued liquid, I am in my own personal level of Dante's hellish inferno. But this is nothing out-of-the-ordinary for the people of the quaint, French-influenced town of Luang Prabang, nestled in the heart of South East Asia's only landlocked country—Laos.
Scenes like this play out everyday once the Hmong Tribal Market sets up shop, just a stone's throw away from the gates of Wat Mai Suwannaphumaham and its neighbour the Luang Prabang National Museum.
I am about to have my very first shot of lao lao aka Laotian snake wine, all for 10,000 kip (Rs 72 approx.) a pop. Made by putting dead cobra snakes in a bottle, and then filling it up with 55% proof rice wine and mountain herbs, the wine is left to steep for months, till its full potency is reached.
And although the snake venom itself is denatured by the ethanol, thanks to its proteins being unfolded and therefore inactive, its "essence" is still present in all its virility.
Raising the shot glass to my nose, I take a hesitant sniff. Failing to detect any apparent odour, I let the tasteless liquid slide down my gullet. And all at once, my entire body is filled with a fiery, burning sensation that opens every pore and congested passage.
Left instantly with a de-clogged nose and a bit of snake scale between my teeth, I dissolve into the swarming crowd, a new man with a bit of venom coursing through his veins…