Art director and artist Sandeep Bomble has created a single painting, 517 square feet comprising 65 canvases.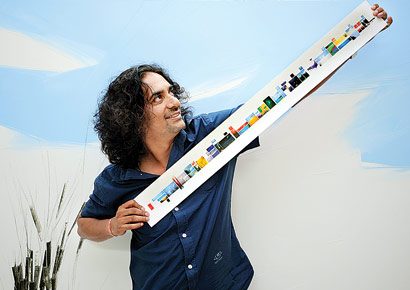 Sandeep Bomble's latest creation is a feat like no other — one large painting, Mindscape: Journey under the Sky, spanning 517 square feet of space, made of 65 painted canvases with several interpretations of mindscapes and worth Rs1 crore. Painted at a stretch, this large piece is a riot of colours, strokes, vibrancy, shades and moods which is what nature is all about. His work reflects what he felt "through his heart and captured through his mind".
After receiving a performance award for his work in advertising in 1996, Sandeep, frustrated with the rut, bought canvases. These remained untouched for a almost a year-and-a-half as he didn't know what he really wanted to paint. The first painting came to him as he drove by dusky green valleys in Kodaikannal on a rainy evening, and saw a single cloud trying to find a spot to settle into ­— that was the moment of inspiration. And he came back and created his first piece called The Lost Cloud, which finds a central place in each one of five previous exhibitions and likewise in his latest collection on display from Tuesday.
"I wanted to give the message to the viewer, that it's a happy life. Nature gives you all kinds of good things to see, and there is beauty even in the way the sunlight hits a slushy puddle. As you sit and view nature's marvels, you feel good about it and yourself and find that stress doesn't remain," says Sandeep, who also devotes time to his creative agency, Palasa.
His works are his interpretation of what he sees around him — the dark blue-purple ocean reflecting the pearly, dusty white snow against a clear blue sky, his favourite gulmohur tree, the dry mountains of Maharashtra (that he calls Brownie). "I want to bring that nature to people, and help them see it through my view so they can enjoy it — not just look at it as abstract art," Sandeep explains.
He uses oil paints, but doesn't use brushes. Instead he chooses a piece of metal, that construction workers use to fill cement in walls, in his craft. This unusual tool give Sandeep's work an unusual stroked look and texture that has become his trademark. When Sandeep Bomble visited the Berlin wall, he brought back a piece as a souvenir. And every time he looked at it he thought of the wall as a whole. And this is what he leaves viewers with at this exhibition as well - the chance to take home a slice of the journey and still be part of the largest Mindscape.
When & Where:
February 5-11
The Nehru Centre Art Gallery Worli