Pooja Bhula discovers the delights of the desert and the ongoing Rann Utsav in Kutch.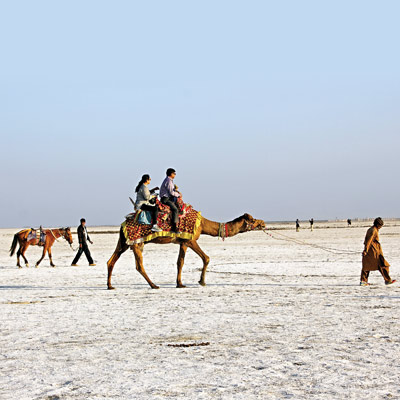 Under the gaze of the full moon, when the sands of the white rann (desert) glimmer at night, it's breathtaking! With this kind of description from fellow travellers, I couldn't wait for the night to arrive. And soon enough, it did. While the full moon did show up, only the stars glimmered. And it's not the sand of the white rann that's white, but the carpets of salt that cover parts of the desert. Yes, salt. You have to taste it to believe it. The view wasn't as mind-blowing as I had expected, but then again, three busloads of people can make any place seem less serene. This was our second visit to the white rann in 12 hours—my friends and I had come here in the evening for the sunset. Other tourists were going on camel rides, clicking the crimson sun and dancing to folk music...But for me, the beauty lay beyond the crowd, where I could see the rann and the blue sky meet.

Our tents at Dhordo
Image Credit: Pooja Bhula
War, Peace and Love
Early next morning, we left for the Indo-Pak border. Even though nations came into being only a few centuries ago, tools of patriotism like national songs, movies, news reports are used so well that the border, as a tourist spot, needs no marketing. People will visit anyway. From Tent City Dhordo, where we were staying, the border is almost a four-hour drive and in between, we stopped to hand over our cellphones and cameras to the Border Security Force (BSF) officials near India Bridge. You're not even allowed to photograph the bridge. Barbed wire fences indicate that the border is not too far and while you can't go right there, the watch spot is just a few feet away. Tourists are allowed here only during the Utsav. A BSF jawan cued us in about the machinery and equipment, the difference between BSF and the army, the climate and geography of Kutch and more... Interestingly, Kutch gets its name from kutchua (tortoise) because of its shape. Not too far, he informs us, is the largest breeding ground for flamingos in India. The bunkers you see are only used during war, but we are told this border is "peaceful".
While some found it interesting, others complained it wasn't worth the time. For me, it triggered memories of KN Daruwalla's short story Love Across The Salt Desert that I had read in my school days. Looking out of the bus window on our way back, I pondered over the charm of old love stories, like Najab and Fatima's (lead characters) and recalled Daruwalla's description of the desert as a mirage in the heat where "a depression in the sand looked like a splash of water, a freak, stunted cactus gave the appearance of a grove, and a camel looked like a huge prehistoric animal on the move." The vast stretch of desert and nothingness may bore some, but to me, it brought a deep calm. I wondered: What would it be like to cross the border on a camel? Do people still smuggle tendu leaves out? What's life like on the other side? Do spice sellers still live there?
Wildlife and Mythology

View from Kalo Doongar
Image Credit: Pooja Bhula
Soon, it was time to hop off again, this time at Kalo Doongar (black hill), the highest point in Kutch. Guides say that when the deity Dattatreya stopped at the black hill and found starving jackals, he chopped of parts of his body and gave it to them. As they ate, his body regenerated itself. Since then jackals come to the temple everyday to eat. Whether you believe the story or not, if you're into wildlife you'll be glad to know that jackals do come here. And for those who are just seeking a slice of nature, the black hill, white sand and turquoise sea create a lovely canvas.
Adventure and Hospitality
We returned to Dhordo by night and the cultural programmes had begun full swing. We didn't attend them, but got reviews from other tourist that "The folk performaces are really good and events are interactive." At an extra cost you can also do dirt biking, hot air ballooning, go on a desert safari or opt for any other activities available at that time. For every meal, you're offered a combination of cuisines: Kutchi, north Indian, south Indian and Indianised Italian and Chinese. The Tent City is huge, so jeeps and golf carts regularly ply to and fro to take people across. While the tents looks simple on the outside, once you're in you'll find that they are clean, comfortable and mosquito free. A heater-cum-cooler is provided and the attached bathroom is basic, but spacious, stocked with toiletries. The two days at Dhordo gave us a range of experiences, but what will remain in our memories even in the years to come is the heart-warming hospitality.
Craft and Colour

Modern crafts at Hodco
Image Credit: Pooja Bhula
We were eager to spend at least a day visiting the villages and after interacting with craftsmen at the Tent City's craft bazaar, we decided on Hodco. The village lies in the heart of Banni grasslands. The craftsmen here deal in leather punching, mirror work and embroidery; their circular houses wear a conical hat and their women, colourful garments and bold metallic jewellery. In the past they embroidered with passion in the heart and art in the mind, but now they tailor their offerings to suit the cost-conscious, industrial culture. As a result, today, the demand for the old work is such that designers are willing to buy garments previously worn by the women of the house. For those interested, homestays are available.
Beach Buzz and Royalty

Vijay Vilas Palace
Image Credit: Pooja Bhula
We spent the night at Mandvi, and once the sun rose, we headed to the beach it is famous for. Here you'll find windmills, a few shacks and coconut and chatwallas peddling up and down. The beach has the Indian stamp of litter, but the blue water is delightful. We also visited Vijay Vilas Palace, a summer palace turned heritage hotel, where several movies have been shot. And although we were unable to visit the shipbuilding are, I was awed when a local told me that ships here are handmade. How can any trip be complete without food and shopping? Before leaving Mandvi, we relished a Kutchi thali at the famous Osho Thali. For those interested in architecture, Prag Mahal and Aina Mahal in Bhuj, where we went next, offers you a blend of Indian and European styles. And even on a Sunday afternoon, when most shopkeepers in Bhuj pull their shutters down, we managed to find an antique shop that stocks everything from embroidered and painted fabrics and coloured stones to tribal accessories and old coins. Between my friends and me, we bought a little bit of everything.