From the start, there was a profound connection between Edwina and Nehru but Pamela saw more.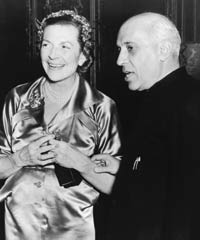 Edwina Mountbatten, who rubbed shoulders with royalty, danced the Charleston with Fred Astaire and let young men not only fall at her feet but into her bed as well, fell madly in love with India along with one of its new leaders - Pandit Jawaharlal Nehru - India's first Prime Minister after independence.
On the surface, Edwina and her husband, Lord Louis Mountbatten, were the glitziest couple of their day but beneath the reality was separate beds, separate lives and a flurry of flings that set tongues wagging.
However, the young Pamela Mountbatten saw nothing untoward at first in her mother's string of male friends as revealed in a fascinating, newly published memoir.
But in time, the 'eccentricity' of her family life would inevitably be a source of bewilderment and sadness.
Yet, three-quarters of a century on, the 83-year-old Pamela writes lovingly and forgivingly of a mother who partied, frolicked and fornicated with abandon — and often left her children for some wild venture.
From the start, there was a profound connection between Edwina and Nehru but Pamela saw more.
"A peace came over her mother," the Daily Mail quoted Pamela as writing.
"She was easy to get along with; a sense of well-being emanated from her.
"She found in Panditji [Nehru] the companionship and equality of spirit and intellect that she craved. Each helped overcome loneliness in the other," she wrote.
Mountbatten saw this too and let his wife get on with this new phase of her life. For him, Edwina's new interest was a relief. It got her off his back.
"Her new-found happiness released him from her relentless late-night recriminations, the constant accusations that he didn't understand her and was ignoring her," she wrote.
The four of them — father, mother, daughter and prime minister — would walk out together, but always with Edwina and Nehru together side by side up ahead.
"My father and I would tactfully fall behind when they were deep in conversation. But we did not, at any time, feel excluded," she wrote.
The Mountbattens slipped back into their old modus vivendi, 'but it was particularly easy now, for my father trusted them both.
In later years, Pamela would pore over Nehru's letters to her mother, 'and I came to realise how deeply he and my mother loved each other.
But Pamela is convinced that it was a spiritual and intellectual relationship, not a sexual one.
"Neither had time to indulge in a physical affair, and anyway the very public nature of their lives meant they were rarely alone," she wrote
What was remarkable in all this — as seen through Pamela's eyes — was her father's dignity and forbearance, as it had been through all the ups and downs of his marriage to Edwina. He remained loyal to the end.
In 1960, aged 58, she died of a stroke on a tour of the Far East for a charity. She had requested to be buried at sea. As the coffin slipped below the water off the south coast of England, Pamela recalls 'my father standing with tears streaming down his face. It was the only time I had ever seen him weep. He then kissed his wreath before throwing it into the sea.
It was the last act of a strange marriage but one which, in its own way, had worked. He had defied the gossip, kept up appearances and kept his family intact however unconventional the method.
There were apparently no scenes, no public scandal and, best of all, no acrimonious divorce. The credit for this Pamela gives unreservedly to him.