Every outsider can relate to the small towner played by Ashish Vidyarthi in Dayashankar Ki Diary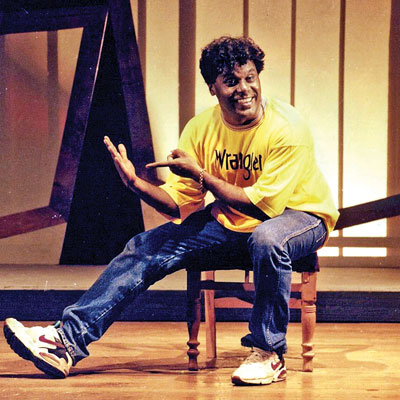 I am not a big fan of monologues. Maybe because soliloquies are not easy to perform, write and direct, and most of the time they drain out both the actor and the viewer. But the same can not be said for Dayashankar Ki Diary. Written and directed by Nadira Zaheer Babbar, the play dwells into the mind and soul of an outsider in Mumbai.
Dayashankar came to Mumbai to try his luck in Hindi movies. The play is a dramatiisd memoir of a man who could not live up to his own dreams. He lives in his own world, where fantasies and realities merge till the point they become inseparable. The play traces the downfall of a man who is victim to his own desires. Hailing from Farukhabad in UP, he dreams of fame, love and money. Though he joins a clerical job in his struggling days, he lives with job all his life. A subtle hint by the writer that his struggle never actually comes to an end. He finds himself imprisoned by his thoughts. Dayashankar realises that the life he dreams is unreal and that unreality is becoming even more real.
City life is not for everybody. We all feel trapped in this routine lifestyle, running after trains, cabs, jobs and money. Who doesn't want to free themselves from the shackles of mundane life? But we are used to it. Dayashankar, on the other hand, can't accept the harsh realities and chooses to live in his unreal world. The way Vidyarthi traces the journey of this cheerful, hard working small-towner, who also mocks at the ways of the city and its inhabitants, to someone who cannot cope with its heartlessness, is heart-wrenching. Though it is his story, Dayashankar is everywhere around us. It is a treat to watch Vidyarthi build up the role and then crush it in front of the audience. While his jabs on his peers and superiors make us laugh, Dayashankar's end leave us heart-broken.
The later part of the play could have been written better though. His frenzy and how he turns into a madman could have been explained properly. Maybe the writer understands the boredom of seeing just one person on stage by the audiences and hence decided not to stretch the play. But even if she had prolonged it, nobody would have complained. Not even the non-fans of monologues like me.