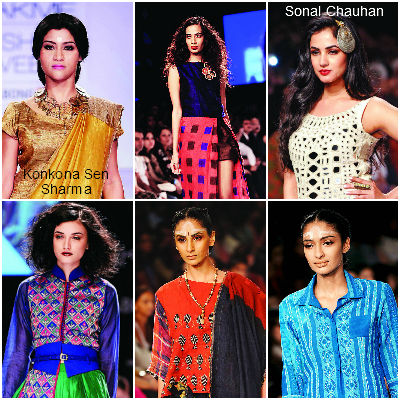 Anavila Sindhu Mishra's
Inspiration: Mohenjo Daro
What we loved: Channeling a quiet, restraint yet evocative aesthetic - the collection was a visual treat. Whoever said handlooms are frumy should definitely need to see Anavila's saris which are modern in their interpretation. We loved her take on the Ajrak printing, featured at Mohenjo Daro.
Purvi Doshi
Focal point: Aztec
Highlight: A hint of Kutch in the garments was countervailing with hues of saffron, blue, chilli red, green and white. The elaborate mirror work stood out on maxis, saris paired with short kurtas along with flared blouses, tie and dye skirts as well as long kurtas with flared pants.
What could have been better: Some of the ensembles looked overworked and could have been edited to make more impact.
Sashikant Naidu
Focal point: Separates
Highlights: Silks, Dupion, fletcher, ikat and khadi were used along with crepes.
Hues like metallic grey, flower prints, lime green, emerald green and rust reds had exquisite detailing like pom-poms and pleats.
What could have been better: The collection had way too many reference points: hand paintings and shimmer along with embroidery. Some ensembles looked too busy.
Pinnacle by Shruti Sancheti
Inspiration: Benaras silk
Highlights: Easily one of the best shows of the day, silk was woven by Shruti with zari as well as Pochampalli. The show was stunningly colour blocked evoking a festive vibe with a luscious palette of crimson, vermillion, cherry, wine and aubergine, burnt orange, and indigo blue. We especially loved the metallic lotuses on sleeves, clutches and pallavs.
Best look: The opening wrap colour blocked skirt with a slit was super sexy!
Pratima Pandey
Inspiration: 1920's era of women empowerment
Highlights: Chanderi and cotton Madras checks beautifully clashed with floral embroidery in ensembles. A muted floral jumpsuit was sassy and smart. Model's cat eye sunnies and frizzy hair took the looks several notches up.
What didn't work: The styling and layering got a tad repetitive over the show.