Why has the world fallen in love with the selfie? Binoo K. John takes a studied shot at it.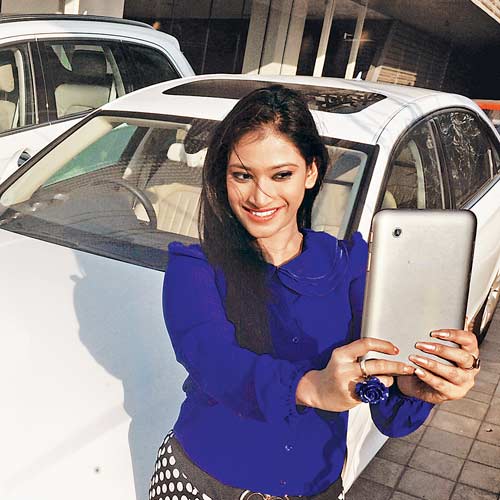 With a camera in your pocket, the urge to turn it on your face is irresistible. Pull it out, stand in front of the Gateway of India, point your phone camera at your yellowing teeth, the lines on your face, the receding hairline and 'click'. Then in a flash a thousand people get to see it on Facebook.
Some of them will be happy that you are alive, your ex will gloat over how old you look, your string of lovers will recall the old days when Gateway of India meant something else to both of you.
The selfie is here to stay, having already conquered our lives and our images, it is all set to conquer our memories as well.
Why did we all fall for the selfie? This narcissistic act of preserving our image, broadcasting it by clicking various button, and worse, discussing it with the rest of the world, as if they are all interested, has become a part of our lives. How do we get a fix on the selfie? Do we need to dump this addiction?
Selfie is a trick that technology taught us. Take your own photo, why depend on others. Before the cell phone camera, photography was an elaborate act, a celebration of family, a trophy occasion, where a photographer had to be summoned, then briefed about the occasion and its grandeur.
On the other hand, taking a picture of ourselves, is an act over which we revel in. Earlier as now, we believe that the photograph will be better than how we actually look.
Another selfie subversion: the photographer who controlled the image since the invention of the camera has been sidelined . He is no longer there to shout "Say cheese". We do it ourselves. No photographer can tell us to look straight or down or to pout. Or show a little more cleavage or muscle. The mobile phone gave us the power to decide how much to show.
Also the sense of occasion associated with photography is gone. We don't have to wait for graduation day for a good profile, or for the next wedding in the family, nor do we have to win a trophy to hold it aloft for the camera to authenticate our triumph. The selfie is taken everywhere, in the bath, in school, to show just where we have just got a tattoo done, and most of all to appropriate our own image.
Images belonged to photographers and they made fame and money out of shooting our pictures.
Such images outgrew the persona itself. Cuban photographer Alberto Korda who shot the iconic photograph of Che Guevare, (In May 1960) the most seen, bought and admired photographic image of all time, had unknowingly appropriated the man. The man died, the revolution died, the old box camera went, the photographer died but the image lives on. That power of the photographed image may not be available to the selfie as yet but at least we have grabbed the power to shoot our own image. Finally we own our own image. Hence this narcissistic indulgence in the selfie.
The selfie has also subverted photography in another way. The process, the option available to the photographer is not available to the selfie-shooter apart from his small lens with limited power to zoom in or out, to give a wide angle view, to soft focus or to cut out the glare. But then who cares. Out-of-focus pictures of celebrites in a drunken state with ruffled hair and smudged lipstick are admired more these days. When media-propelled UK celebrity Kim Kardashian (whose daily moves and dresses are chronicled) shoots a selfie of her own butt, it is the intimacy that attracts us. Like a photogrpah, the selfie is, as Susan Sontag said in her essay on photography, "miniatures of reality that anyone can acquire. It is also a incontrovertible proof that a given thing happened."
In the Indian context, the selfie and the mobile phone photograph, has subverted another big Indian rule: 'Photography not allowed.' This statist warning that if you take a photography you will be in trouble can be seen everywhere in India, in airports, in front of defence ministry and government establishments where apparently big decisions are taken. The more monumental the structure, the tougher it is to photograph it. Jawaharlal Nehru himself mocked at this when he had Homai Vyarawala take a picture of him in front of a sign at the Delhi airport which read, "Photography not allowed."
This fear of the image is real and a part of our everyday lives. A camera is seen as an equipment that can cause the downfall of people and governments. Even in the recent swearing in of the AAP government in Delhi, I was not allowed to enter the venue since I had a camera with me. It is also because as Sontag says, there is an "agression implicit in every use of the camera".
The mobile camera, by getting itself embedded in another powerful equipment, the phone, has managed to remain hidden from the eyes of the Big brother. So in that sense when you turn the phone camera on to yourself and take a picture with the Parliament in the background, you are also celebrating a certain freedom.
The selfie is here to stay. We love to flaunt our image and no longer want to hide behind the burqa of conservatism.
When Barack Obama and David Cameron moseyed up to Danish prime minister Helle Thorning Schmidt, it was the male urge to be photographed with a chick. Both Cameron and Obama had a sense of glee spreading over their faces, tinted perhaps with a little lust? That became the most well-known selfie of last year. In that selfie we see ourselves. We see fame and permanence and lust and beauty as natural accomplices to the image. What better way to prove it than to take our own selfie?