Nature's basic elements—earth, fire, water and air—inspire creative minds with beguiling textures and colours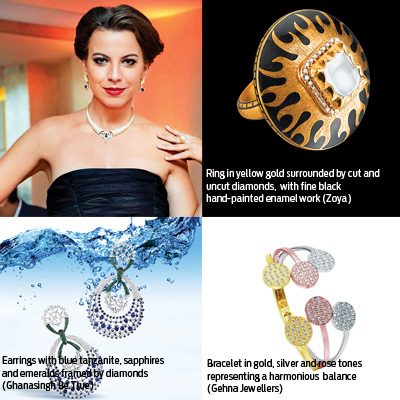 Spring, known for its bountiful beauty, and fresh blooming colours, leaves summer in its wake, giving us a varied palette to work with. And while pastels have given way to earthy tones, there are four classic elements that never fail to impress—earth, fire, water and air.
Among other things, the elements also manifest themselves in our love for jewellery, be it the striking colours that they signify or the structure and form that they represent. Here's a look at jewellery that has been inspired by the four elements.
Down to earth
Earthy elements and tones have long been used in the creation of jewellery. The colour green has been dominant in the palette not just because of its freshness, but also for its significance—green equals growth equals life. When paired with brown, earthy hues and amber, the combination results in a statuesque look.
Blazing flames
An edgy element, 'fire' is not an easy element to work in to jewellery. While the colours are the most vibrant that they can get, the volatile flames and their movement has been hard to capture. And yet, this element teases the most daring of artists to come and play with it.
Go with the flow
Water, unlike its counterparts, earth, fire and air, has dual facets. On one hand, a calm river with its deep green and teal hues can put the mind at ease; on the other hand, an effervescent brook, full of life, injects one with bubbling enthusiasm. And finally, the gigantic ocean with its turquoise waters accented with white froth, beckons many to emulate its beauty. Precious stones like blue tanzanite, sapphires and emeralds merged flawlessly with diamonds and pearls bring out the beauty of water. The combination of these pieces results in a very feminine and classy look.
As light as it gets
The final element of the quartet cannot be seen or touched—it can only be perceived as one of the lightest elements. The colour palette comprises light and bright pastels with hues of nude and white thrown in. Popular motifs representing air are billowy feathers in the lightest of metals, giving the wearer a barely-there look and feel.
Fusion four
While each element embodies a certain spirit, the amalgamation of all four creates an interesting, and often complex result. "A bracelet that incorporates gold, silver and rose tones represents every element of nature", comments Kiran Datwani of Gehna Jewellers, "It is said that when all elements are in balance, we are able to function at our highest level as human beings, opening us to the divine rhythm of nature."