Successful entrepreneur and one of the biggest names in international fashion, Bobbi Brown, shares a few of her insights about work, life, make-up, success and more
She pioneered the nude look in the early '80s and has grown way beyond her own expectations. Her responses are loaded with wise insights.
Could you describe your journey to NY Fashion Week?
Working as a make-up artist, I had a lot of professional relationships that helped me turn my idea into reality. My vision was to create a simplified cosmetics line that looked natural and would match and complement women's complexions. I started with creating lipstick shades that made lips look like lips, only better. I met a chemist during a photo shoot who ended up making my lipsticks. Once I had the final product, I started selling the make-up out of my house via mail order. It was written about in Glamour magazine by the beauty editor at the time. And then one day, I met the cosmetics buyer at Bergdorf at a party. I told her about these lipsticks and she really embraced my natural beauty approach and wanted to sell them in the store. Then in February 1991, I debuted my line of lipsticks at Bergdorf Goodman - and it was clear that a beauty revolution was underway. Women seemed to really embrace these uniquely flattering shades and my realistic approach to beauty.
Today, I'm often on the set of editorial shoots, creating looks for international magazines, I work backstage during New York Fashion Week and at red carpet events where I get to work with celebrities. Since the launch more than 22 years ago, the brand has expanded well beyond lipstick to a full range of colour cosmetics, fragrance, skincare, tools and accessories. My concealers, foundations and powders come in yellow-based, skin tone correct shades that look natural on all skin tones. Our colours for eyes, cheeks and lips are timeless and are designed to be as subtle or as dramatic as a woman wants and our make-up brushes and tools are of professional calibre. Each brush is handmade and designed with a specific bristle density and shape to pick up and deposit colour for a precise application. Last but not least, my skincare products are designed to instantly make skin look better.
How do things change when you're bought over by a big brand? What do you miss about being a stand-alone brand and what do you feel being a part of the Estee Lauder group of companies has added to your brand?
The Bobbi Brown brand was officially launched in 1991. By 1995, we were overseas in Canada, London and Japan and we were approached by The Estee Lauder Companies with an offer that I couldn't refuse. We weren't for sale, but we were going through growing pains and knew that we needed help if we wanted to take our business to the next level. I had a fantastic company backing Bobbi Brown Cosmetics, and the company let me retain complete creative control over the brand. It was one of the best decisions I've ever made.
Being a part of Estee Lauder has given me the ability to grow my company in ways that I never could have dreamed of doing on my own.
What would you say were your biggest challenges, disappointments and joys on the road to getting to where you are today?
I quickly learned that I can't do it all and that while I needed to trust my instincts I also had to begin to rely on my great team, who are experts at what they do. When I first started, it was also difficult to balance work with my family, but I learned to prioritize–my family has always been most important to me.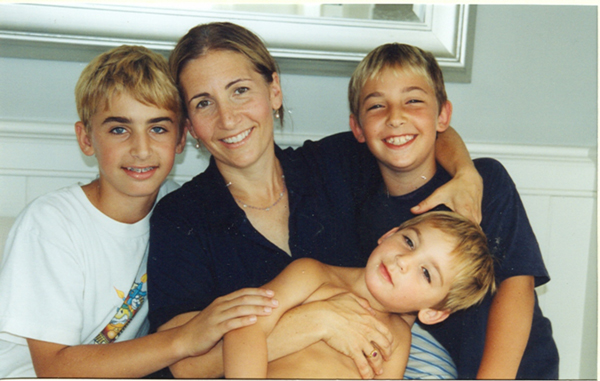 Would you say that there are challenges specific to being a female entrepreneur or is entrepreneurship not gender sensitive?
When I first started, there weren't as many women entrepreneurs and there wasn't a lot of information out there. Today, there's not only a lot more information for young women, but also many more female role models.
What's your approach to challenges?
If one door closes, look for a back door or a side door. I've always dreamed big and have been determined to reach my goals–whatever they might be. I learned a lot from my grandfather, Papa Sam. He moved to America from Russia when he was a boy and he worked his way up selling newspapers and ladies' handbags. Eventually, he became "Cadillac Sam", one of the biggest car dealers in Chicago.
What would you say are the three qualities that a woman requires to become a successful entrepreneur?
You need a unique idea, you need to be passionate about your craft, and you have to work hard. Don't stop at the first hurdle that you meet. You must keep your goal in mind and move forward. And most important, you need to trust your instincts.
How do you balance work and home? Do you have any advice for young working mums or women who want to set up their own enterprises?
I try to keep everything in my life–whether it's work or home–as simple as possible. I've learned to find time to do it all–run a company, raise three kids and lead a happy marriage. If you know what's most important to you, you will always make the right decisions. I've always been strict on prioritizing. My family is the most important thing to me and I fit everything else around them.
What sort of a boss are you? Are you a control-freak, who knows who's doing what and how at any given point of time or do you let your people run things the way they think best?
I quickly realized that I couldn't do it all so I hired people who are great at what they do and let them do it. It's important not to micromanage and instead to learn how to delegate.
You're often referred to as the pioneer of the nude look, yet you graduated in theatrical make-up—that sounds almost like an anti-climax? Can you tell us what inspired you to create this look and if/how it can be modified to keep pace with the changing fashions?
After graduating from college with a degree in theatrical make-up design, I headed to New York to fulfil my dream of working as a professional make-up artist. This was the 1980s, and the look of the moment was loud, garish and overdone. I soon became frustrated by the lack of flattering make-up on the market. It was impossible to find make-up that looked good on skin. I almost always had to 'fix' the products I bought, blending shades together until I got something that looked natural. I saw a major void in the cosmetics industry that I knew I could help address. My vision was a lip collection that included all tones and could be mixed and blended to create any lip shade.
As far as products, we offer make-up that's pretty, easy and quick. We offer skin-tone correct concealers, foundations and powders with yellow undertones that look and feel natural on all skin tones. They look the most natural and flawless on a woman's skin. And, timeless colours for eyes, cheeks and lips that are designed to be as classic or as dramatic as a woman wants. My skincare collection combines natural essential oils with modern ingredient technologies to help prepare skin for a flawless look.
How do you define make-up? What role do you think it should play in the life of a woman?
Make-up is a way for a woman to look and feel like herself, only prettier and more confident. My goal is to show women how to properly use make-up to enhance their favourite features and celebrate natural beauty. The secret to beauty is simple–it's about being who you are. It's about finding what shades and textures work best for your skin tone and type. What might work for one person, might not suit the next. It's really about what makes a women feel her prettiest.
Do you regularly wear make-up?
I like to apply a few of my staple products every morning, before work, but I'm not afraid of going bare-faced, especially on weekends. I keep my beauty routine really simple–it takes less than five minutes. I layer a couple of moisturizers to keep my skin soft and plump and then I apply Creamy Concealer, black mascara, Pot Rouge and Lip Gloss. With these easy-to-use products, I look healthy and refreshed. When I have more time, I like to line my eyes with Long-Wear Gel Eyeliner.
What do you have to say to women who think make up is no more than a mask and something they would rather do without?
Women are pretty with and without make-up but they can be empowered to another level–pretty and powerful–with make-up. I use make-up to enhance natural features, instead of covering up imperfections. Women want to look and feel like themselves, only prettier and more confident. For me, being beautiful isn't just about how you look. It's really about who you are as a person. The most compelling aspect of beauty is self-confidence. When you feel good about yourself there's no limit to what you can do—and that's what I like to call, Pretty Powerful.
What are your thoughts on skin-colour and appropriate make-up for different shades of skin? Does the nude look work well for all women?
I've always loved a more nude make-up look for any occasion and environment–day to night. It's my favourite look because it flatters everyone and is pretty much mistake-proof. However, natural make-up doesn't mean going completely bare-faced. The secret is to choose shades that are similar in tone to your complexion–for example, eye shadows that mimic the natural colouring of your eyelids and lipsticks that look like your lips. If a nude shade looks ashy, it's too light for you. If it looks muddy, the shade is too dark.
How do oranges, pinks and corals fit in with a nude look? Wouldn't they be defying the definition of nude?
Everyone has a bit of yellow in their skin tone, which is why you can never go wrong with apricot, pink and coral shades. The nude look is about finding what works best for your skin tone and using make-up to bring out your natural beauty. And, colour is a great way to brighten up the face and play up your favourite features. For example, a pop of pink blush on the cheeks is a simple, quick way for every woman to brighten up her look. It adds a hint of colour and really makes the face come alive. To find your most flattering blush shade, pinch your cheeks and look at the colour that they turn.
How does the nude look translate to changing seasons, contexts and cultures? For instance, India is sort of a loud place... how do you customize your creations to suit Indian tastes?
Bobbi Brown Cosmetics isn't about rules, it's about options. A nude look is not about no-make-up and isn't synonymous with subdued shades or tones. It's about wearing the right make-up for your skin tone and personality. It's about knowing what's right for you and following your own path to being who you want to be–whether that's wearing the brightest red lipstick or going au naturale.
What happens when the colours of the season change?
My goal is to develop products that meet the needs of women and fit their lifestyle; whether it be launching new products or making existing products even better. I'm always talking to friends, family and coworkers to give our customers exactly what they're looking for. And before launching a new product or shade, I try it myself to make sure it's perfect. Make-up trends come and go, so I'm more focused on creating products that work, and work instantly.
How do you adjust for cultural differences in skin? Would Bobbi Brown make-up work well with Indian skin, both in terms of colour and texture?
We offer products that cater to the different beauty needs of women around the world. I don't think that there is one single definition of beauty, so our line is designed to give women of all ethnicities, skin tones and skin types options that work for their individual looks. My goal is to offer products that cater to the beauty needs and concerns of women around the world and our products and shades are well suited for Indian woman.
What shades in the Bobbi Brown Collection go well with Indian skin?
When it comes to choosing foundation, make sure to choose a formula that is skin-tone correct and matches the skin exactly. I recommend using blush in deep rose or pink shades to complement darker complexions. When it comes to lipstick, you can't go wrong–I love everything from plum pinks to soft peach colours. And last but not least, black eyeliner and shimmery eye shadows are a great way to make eyes stand-out.