Aromatic, spicy, flavourful and delicious. Avril-Ann Braganza gives you a taste of Chettinad food.
It's 7 30 in the evening and the magic begins as we walk down the quaint entrance — the black granite path is dimly lit and the walkway is lined by century-old carved stone pillars— of the recently relaunched Raintree restaurant at Vivanta by Taj- Connemara in the middle of bustling Chennai. The dim lighting extends to the outside seating area— seven tables beautifully spaced out leaving you to enjoy a private romantic evening under the green raintrees.
We walk into the redone restaurant interior. Designed like a typical Chettinad home, it has an extended roof, pillars, and a spacious thinnai (elevated verandah on either side of the entrance). I take in the surroundings once I am seated at my table— large glass windows that look out on to a tree-filled courtyard on one side, and an enormous tree trunk in the midst of a lush natural setting on the other. A water-body with bullrushes occupies the centre, while Thotha Tharani's original-but-slightly-modified frescoes capture the spirit of an old Chettinad home reflecting village life.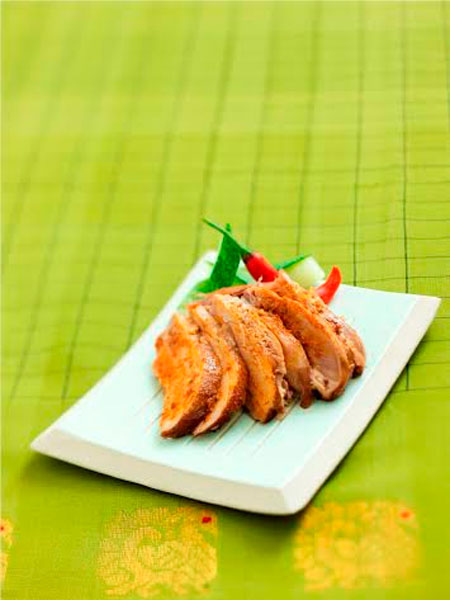 Vivanta by Taj - Connemara - Raintree (Vathu Roast)
The food and drinks arrive and the chutney trolley is rolled to my table. Yes, CHUTNEY TROLLEY— coconut, guava, peanut, tomato, ginger... the list is endless. For someone who greatly dislikes chutney, it's safe to say that after trying them with the Vadams, they left me drooling. Already smitten by Vasantha Neer, a refreshing and cooling drink made with tender coconut water, lime, honey and mint, I tried the Jasmine Martini, made with vodka, lime juice and home-made jasmine sugar syrup and garnished with a Jasmine flower. The juicy tiger prawn roast, a Raintree speciality (fresh tiger prawns tossed in a Chettinad spice mix full of the fresh flavours with tomato, ginger, green chilly and lemon juice) left me speechless with its beautiful blend of flavours of prawn and Chettinad spices. The aromatic, hot and peppery Nandu Saaru (crab soup) arrives and with the very first spoon, the flavour of the fresh crab shell enhanced with Chettinad spices hits you. The Karuvepillai Podi Idly (Cocktail Idlies tossed in Spiced Curry leaf Powder) is delicious.
Chef Chandrassekaran tells me that Chettinad cuisine is one of the spiciest and the most aromatic in India. Famous for its use of a variety of spices, the dishes are hot and pungent with fresh ground masalas. The most important spices are marathi mokku (dried flower pods), anasipoo (star anise) and kalpasi (a lichen known as the "black stone flower", also known as dagad phool). In addition, tamarind, whole red chillies and saunf (fennel seed) are also used along with cinnamon, cloves, bay leaf, peppercorn, cumin seeds and fenugreek.
"The masalas, especially the spices, are broiled and then are freshly stone ground and are used to make curries which are simmered for a long time. This is what brings out the flavour and the aroma of the food," Executive Chef, Vivanta by Taj – Connemara. VK Chandrassekaran, tells me. As the main course arrives that's exactly what I experience. The first bite of the mutton pulao was a little bit of heaven. The main course arrives and the first spoonful of pulao is divine. The flavours of mutton and spices strike just the right balance. I am told that Ponni rice which is smaller and soft is used for the mutton pulao. If you're a fan of spicy food, a must-try is the KaraiKudi kari Melagu chops (lamb chops cooked dry in a pepper and ground coconut masala). Vegetarians can savour the typical Karaikudi kalan curry (button mushrooms and pearl onions in tomato curry with chettinad spices) and Manathakali vathal kozambhu (A pungent curry of shallots and dry berries).
Samrat Datta, the General Manager of Taj–Connemara explains that while some of the old favourite items have been retained, many new dishes have been added to the menu. The recipes have been discovered after extensive research into the cuisine and region, going in to homes and other authentic venues to learn and master them. Some dishes like the desserts have been presented and styled in a contemporary way, yet keeping with the original recipe of the dish, to bring in a refreshing Vivanta twist to the experience.
By the time the desserts arrive, I have no place for even a mustard seed. But after one bite of the tender Coconut Mousse (creamy tender coconut kernels with coconut milk) I've unlocked a secret chamber in my tummy to devour it. That's just the beginning. I then relish the Banana Appam (a layered pancake filled with grilled bananas, nuts and raisins topped with ice cream) and the White Chocolate Rosapoo Gulkand Flan. Ice cream lovers must try the filter coffee, rose petal, tender coconut with lychee or the cinnamon flavour. Though styled in a contemporary manner, the desserts stay true to the original recipe.
Recipes
Nandu Saru
Ingredients
30g Oil
5g Saunf
2g Jeera
1g Cardamom powder
1g Cinnamon powder
1g Cloves powder
3g Marathimokku
3g Kalpasi
4g Star anise
2g Pepper
5g Green chilly
10g Coriander leaves
2g Curry leaves
50g Sliced onion
80g Sliced tomato
50g Mud Crab
3g Turmeric powder
2000g Water
4g Salt
5g Ginger, garlic paste
5g coriander powder
5g Chili powder

METHOD

Heat oil, add all the whole spices. After crackling, add onion and curry leaves sauté for 2 or 3 min. Add Ginger and Garlic paste ,tomato, chili powder, turmeric powder, coriander powder, crushed whole crab. Add salt and bring to boil.Add crush coriander root, and simmer it for 2hrs.At last strain the soup, then add crab meat.Serve hot.
Tiger Prawn Roast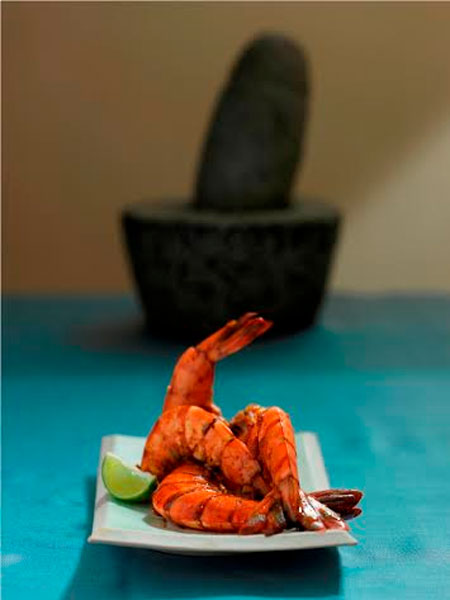 Vivanta by Taj - Connemara - Raintree (Tiger Prawn Roast)
Ingredients
Prawn (8-10 Count) 16 Nos
5g Ginger Paste
5g Garlic Paste
20gChilly Powder
2gTurmeric Powder
10mlLime Juice
Salt To Taste
100mlOil
Roast Masala
2g Cinnamon Stick
2g Cloves
2g Cardamom Green
2g Star Annis
2g Kalpasi
2gSaunf
2g Jeera
200g Onion Sliced
10g Curry Leaves
10g Ginger Garlic Paste
15gChilly Powder
25g Dhaniya Powder
3g Turmeric Powder
METHOD
Clean the prawn and marinate with ginger and garlic paste, chilly powder, turmeric, lime juice and salt, and set aside. Then heat oil in a sauce pan and add thecinnamon sticks, cloves, cardamom, star annis, kalpasi, saunf, and jeera, one by one. Sauté till the masala crackles.Next, add the sliced onion and curry leaves and sauté till the onion become golden brown. Add ginger-garlic paste, chilly, dhaniya, turmeric powder and salt. Then add half a cup of water and simmer. Once the oil separates from the curry, add the marinated prawn and cook till mixture become semi-dry. Arrange the prawn in a desired plate along with the masala and serve hot.
Tender Coconut Mousse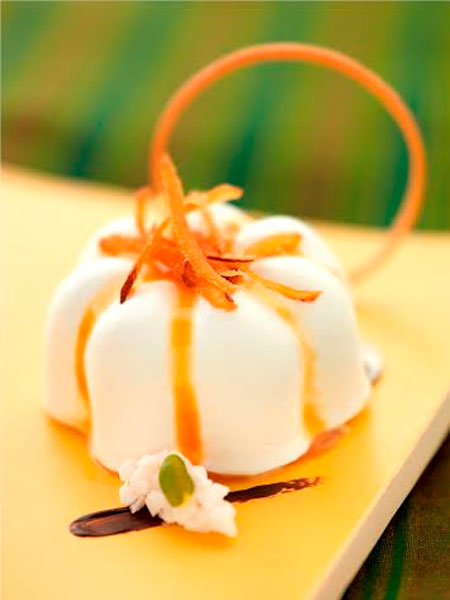 Vivanta by Taj - Connemara - Raintree (Tender Coconut Mousse)
Ingredients
100ml Coconut milk
50ml Condensed milk
20g Jaggery
15g Vegetable gelatin
150g Whipped Cream
100g Chopped tender coconut
200ml Milk
METHOD
Warm the milk along with jaggery. Add the gelatin, condensed milk and coconut milk, mix gently. Then allow the mixture to cool till it reaches room temperature. Fold the whipped cream with the mixture and put it in the silicon mat. Allow it to set in the refrigerator for 2-3hrs. Remove it from the refrigerator and de mould the mousse, garnish and serve cold.