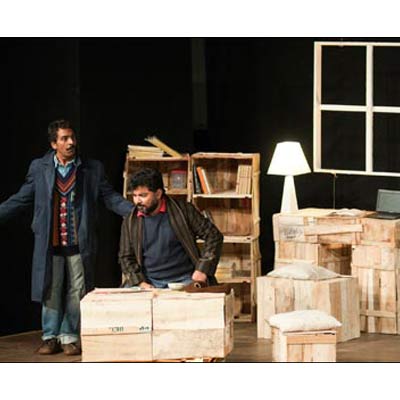 A huge fan of Al Pacino, Danish Husain got his hands on a DVD that had three Pacino movies and an elaborate interview sometime in 2007. One of the movies on the DVD was Chinese Coffee. "The movie had the least glamorous title of the lot. I was not so keen on watching it. I saw it after the other two movies and the interview," says Husain. Chinese Coffee, however, left an impact on him. "I figured that this originally had to be a play and I knew I had to make it," he says.
The play, by Ira Lewis, is the story of two men in their late 40s — both failed writers, unemployed and broke, yet, full of hope. "It's a story people can relate to. It is very real, and it is a beautiful piece of literature," says Husain.
The play, originally set in New York, needed to be tweaked to fit it into the Indian context. "I know Delhi better than any other Indian city so I set the play there. The characters, originally from Greenwich Village, Manhattan, became ex-Stephenanians in my version of the play. I drew parallels between New York and Delhi to make it suitable for the Indian audiences," explains Husain. China Town and Chinese coffee, in the original play, are terms that have emotional value attached to it. The coffee is celebrated as if it were nectar. "For me, China Town became Jama Masjid, and Chinese coffee, nihari. There is no coffee in my version of the play, it's just the title, which I would have liked to change, but didn't have the rights to," laughs Husain.
Working on a celebrated play with big names involved did not bother Husain much. "It's not like either of them will be sitting at Prithvi while we perform. If they were watching us perform, I'd be worried, because then we would have big shoes to fill in. I don't think Pacino gives a shit about two guys in India staging 'Chinese Coffee'," laughs Husain.
It is tempting to draw similarities between this play and Dastangoi, the 16th century Urdu art of storytelling that Husain is best known for. Both are text-heavy pieces of intelligent literature and both feature just two men on the stage, narrating a story. "My plays are not about movements and fancy sets. A solid story is my hero," says Husain. With Dastangoi, Husain chose to tell contemporary stories, in a traditional format. Be it the story of Dr Binayak Sen being charged with sedition or the increased usage of mobile phones in today's world, his stories reach out to his audiences and give them some food for thought. "I don't believe that the audience is stupid. I don't like the idea of spoon-feeding them with every bit of information. I'd rather present them with a story they can slowly unfold, garnished with beautiful language," he says.
Speaking of Vrajesh Hirjee, his co-actor in 'Chinese Coffee', Husain says, "We go back a long way and have always been very keen on working with each other. Vrajesh called me this one time to congratulate me for one of my plays. I was adapting Chinese Coffee for the Indian audience then. Mid-way through the conversation it struck me that if there was anyone who fit the role of Pacino in the film, it was Vrajesh. I sent him the script, he loved it, and we were on."
"I'd be a fool to turn down this play. You will know why, when you watch it," says Hirjee. He claims that the play gave him a chance to explore himself not only as an actor, but also a human being. He recalls, "Prasoon Joshi (film lyricist, screenwriter and advertising guru) watched one of our shows. After the show, he called me to say that he had never seen this side of me before. It was such a huge compliment." Best known for his comic roles in films like the Golmaal series, Hirjee ventures into "tragicomedy" as Husain puts it, with this play. "I have always enjoyed dark humour. The characters in this play are so helpless and are going through so much trauma, that it is funny," Hirjee adds.
Audiences in Mumbai are more aware of theatre as compared to Delhi, says Husain, having performed extensively in both cities. "The theatre culture in Mumbai is still alive. Newspapers carry advertisements of multiple plays being staged in the city, each day. That does not exist in Delhi anymore, maybe because Delhi is a larger city, with not enough spaces that draw an audience for theatre," he adds. The Hoshruba Repertory, Husain's theatre company has staged Chinese Coffee in Mumbai, once in 2012 and 2013, to a positive response. They are set to perform again, this weekend. "I just want my audiences to come, watch the play and leave the theatre having experienced an array of emotions. I want them for forget about the FIFA World Cup!" laughs Husain.