Jaipur is awash with writers, agents and book sellers. Three Nobel laureates, a Pulitzer winner, and a host of Booker prize winners promise to make the seventh editon of the festival a rollicking ride.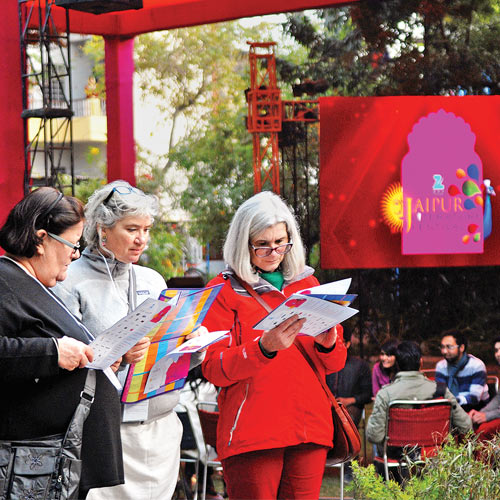 It's that time of the year when India's Pink City readies itself to welcome bibliophiles from across the globe for five days of literary indulgence. With more than 250 authors and 175 sessions, the Zee Jaipur Literary Festival (JLF) has a little something for everyone this year with books, politics and a tad bit of Bollywood.
A host of Booker and Pulitzer winners, three Nobel laureates and the cream of literati have descended on the sprawling haveli, Diggi Palace, that traces its history back to Akbar's reign in 1524 and was converted into a heritage hotel in 1991. Noticeable among these will be Jhumpa Lahiri, economist Amartya Sen, Tash Aw, Jim Crace, Reza Aslan, Katherine Boo, Michael Sandel and Cyrus Mistry.
"From poetry to economics, crime novels to the survival of languages and from translations to Sufi music, there is something for everyone at the Zee Jaipur Lit-Fest. The programme is designed brilliantly and at least 19 major prizes will be represented at the festival. Nobel prize winners like Amartya Sen and Dr Harold Varmus and Pulitzer Prize winners such as Jhumpa Lahiri and Mark Marzetti will mingle with Sahitya Akademi awardees," says festival producer Sanjoy K Roy.
"JLF is a unique celebration of writing that has grown into something bigger and more wonderful than anything we could ever have hoped for when we first conceived it a decade ago," says co-director William Dalrymple.
JLF ensures that a third of the sessions focus on vernacular languages. The festival will incorporate 11 local languages this year and focus on the survival of endangered languages. This year, the focus seems to be on Malayalam and bestselling authors Benyamin Daniel and novelist Anand will address sessions at the festival. It will also bring translations to the attention of publishers through an initiative called Jaipur BookMark, which will bring together publishers, agents, rights holders and literary content producers.
"It's the kumbh mela of the literary world and I have been here every year since its inception in 2006. And I have seen it grow from strength to strength with joy and also some dismay. There are just too many people coming here now," says author and columnist Suhel Seth.
In the election year, the organisers have special sessions called "Democracy Dialogues" that will explore issues of a democracy in evolution, cutting across the clutter of television debates and party gimmicks. Feminist discussions will also feature prominently with Gloria Steinham leading the fray.
For the film fans, there's Irrfan Khan, Javed Akhtar, Prasoon Joshi and Ekta Kapoor to spice up the festival experience. "Literature festivals also facilitate amazing cross-cultural exchange within and outside India," explains Sanjoy K Roy, adding, "Some people may come to Jaipur to be seen but the content takes over. Ultimately, they do listen to authors speak and participate in sessions."
The winner of the US$50,000 DSC South Asia Literary award, judged by a panel led by literary critic Antara Dev Sen, will be announced by Shashi Tharoor at an award ceremony on January 18.
"In recent years, JLF has emerged as an accessible spot to conduct business, apart from the Frankfurt Book Fair. The festival is a meeting point for the east and the west. Following not much after FBF where traditionally much of the global publishing business takes place, JLF occurs at the beginning of the calendar year, a good time for authors to follow up with publishers," says Jaya Bhattacharji Rose, international publishing consultant.
What will be interest is the phalanx of agents who will be here to scout talent and maybe sign some deals though no big deal has been struck with writers in the past here.
Inputs from Anam Rizvi, Amrita Madhukalya and Manisha Pande