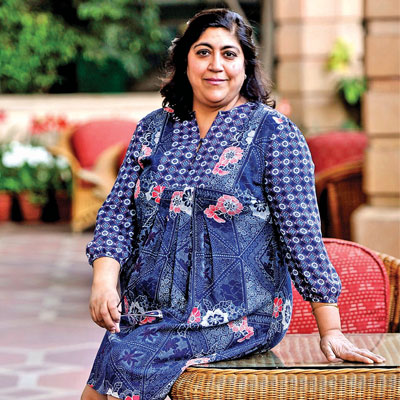 Bend It Like Beckham director talks to Amrita Madhukalya about childhood, her plans for the future, how she is working on expanding her brand of content and, of course, Bollywood Gurinder Chadha was arguably responsible for making the curry as cosmopolitan as the casserole in Britain. Director of hits like Bend It Like Beckham (2002), Bride and Prejudice (2004) and Angus, Thongs and Perfect Snogging (2008), Chadha put the Indian diaspora family on the world cinema map and is now moving to the venture capital arena.
"I wanted to make movies that I wanted to see... Most of what went into Bend It Like Beckham was culled from my own childhood. I was a rebel and it took time for my father to reconcile with what I wanted to be," says Chadha.
Chadha, 54, is currently working on a stage adaptation of the movie that starred Parminder Nagra and catapulted Keira Knightley to instant stardom. "A West End adaptation of the movie has been in the offing for a while. We'll release it on stage later this year," she says.
So, will the production travel to India. "Well, we're hoping to," comes the reply.
Born in Nairobi, Chadha's family moved to Southall after she turned two. She joined the BBC as a news reporter in 1986, where she filmed several award-winning documentaries for Channel 4. In 1990, she came up with her own production house, Umbi Films. Her first notable film was Bhaji on the Beach about a bunch of South Asian women during a day trip to a beach resort in England. Her newest project is a venture capital fund worth $30 million with entertainment financier AVT Shankardass, which will produce and promote content for film, television, stage and the digital space.
"We will produce TV content for BBC and Sky TV, and are also working on a couple of films. There is a series of movies on teenage humour, something on the line of Superbad, but for girls, a Christmas movie and one which is very close to my heart — a movie on the Partition commissioned by Pathway and BBC, that will have both British and Indian actors. In fact, I was in talks with an Indian actor during my visit for the project," Chadha, who was in India to promote the project, says.
"I wanted to extend the legacy of my content to a staff of talented people to produce better films or series for the diaspora audience. My movies have done well in Korea, Greece and China, apart from India." The Bend It Media Fund is an open-ended venture registered in Cayman Islands, listed initially for a period of three years.
"We have a lot of content submissions coming in from various parts of the world. The content could be from Africa or from Spain, but if it is good and is viable, we will back it," says Shankardass, who had financed Hollywood blockbusters like Captain America and Man of Steel. Chadha is also working on her adaptation of the Mahabharat and another movie based on the life of a Muslim boy in England who idolises Bruce Springsteen and even manages to rope in the rockstar to make sets for him.
Apart from that, there is a BBC documentary on the role of Indian soldiers during World War II. Next month, the New York Indian Film Festival will commemorate Chadha's works as a tribute to 20 years of Bhaji on the Beach.
"Chadha is one of three 'Bhanji Brigade' superstar diaspora women filmmakers — the other two being Mira Nair and Deepa Mehta — all three of whom have been honoured for their talent by NYIFF in years past," said a statement from the festival organisers.
So does she like Indian movies? "I loved Vicky Donor and The Lunchbox, and will check out Queen, of which I've heard great reviews. Some movies have some great potential, yet lose out because of some flaws. There are times I am itching to go to the edit room," says Chadha.