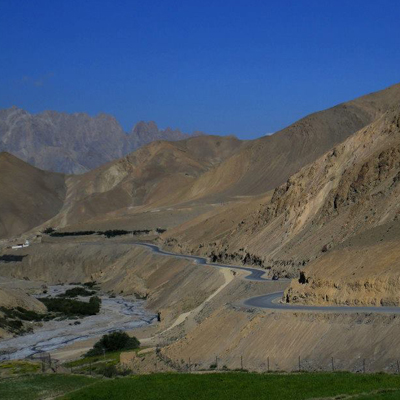 'To travel is to take a journey into yourself.'
Travelling across unchartered terrain, crossing rivulets and mapping journeys, a vagabond's journey is not only exciting but also fulfilling. Many travellers will vouch for the fact that travelling gives perspective, serenity and direction to a confused mind. And with numerous travelling programmes and initiatives, a traveller has a lot to choose from.
"Travel enables us to explore, not just the paths, beaches, hills, plains, valleys or that isolated waterfall in the middle of nowhere. But, explore our mind." says Gautam Anand, an avid traveller. Adding another perspective, Sarah Syed from Malad says, "Travelling breaks the clutter of daily mundane life and allows you to experience things and experiences which make you a better person."
From budget travelling, experiencing different forms of adventure sports to fulfilling responsibilities, travelling is a hobby that will never lose charm for an intrigued soul.
'The Land Out There' started by Sherwin Rebello and Divya Pai is one such initiative that promotes the trend of budget backpacking across India. From the snow-capped mountains of Shimla to the rustic charm of Bhandardara, camping at night under the star-filled sky, they have travel programmes customised for everyone.
And if you think of them as travel agents then here's the myth-buster: they are backpackers obsessed with rugged travel, and what they sell you is the dream of travelling across India within a budget of Rs 1,000 per day anywhere according to their website.
The whole programme is affordable because the team believes in wandering on a fulfilling journey, and hence does not believe in the concept of booking a luxury hotel while travelling. So the journey will be more about being a 'traveller' and less about becoming a 'tourist'.
Their caption reads, "Let's cover the earth before it covers us because you only live life once so live it well."
'The Land Out There' started as a site in February 2012 that helped people travel to lesser known destinations. The reason both Sherwin and Divya posted about such places was mainly because they found it a struggle to get information about these places. Explaining the ideation for 'TLOT', they say, "Running backpacking trips at Rs 1,000 a day was born solely with the purpose to help more people travel across the country without burning a hole in their wallets, and while doing so experience backpacking and everything that comes along with it."
TLOT team conducts around 60 to 80 trips annually and have conducted trips to Zanskar, Ladakh, Spiti Valley, Parvati valley, Rajasthan, Hampi, Gokarna, Daman, and the Andamans, apart from the camps and treks in and around Maharashtra.
People can get in touch with the team via email, Facebook, Twitter or call/WhatsApp directly on the numbers mentioned on their site. And for those worried about the budget, here's what they say, "Managing the budget on these trips is not really an issue since we run backpacking trips and travel by public transport and stay in guest houses or home stays."
When asked about their objective for TLOT, both the team members say, "Our future objective for TLOT is to launch travel related merchandise and collect enough information to turn the site into a guide book for backpackers and budget travelers."
Why people should check out 'The Land out There'
Divya/Sherwin: TLOT is not your regular tours and travels. At TLOT, we purely stick to backpacking so travelers come prepared to rough it out and travel rugged using public transport and loads of walking and hiking. All our trips have at least one place which is completely off beat and unheard off to the general crowd. A few of our off beat places are Malana, the Aryan village in Himachal Paradesh; Tur-tuk, the last village on the border in Ladakh; and Siddi, an African tribe in Karnataka.
Below are some locations that 'TLOT' has been to:
Check out the website here: The Land Out There
Check social media updates here: Twitter : Instagram : Facebook