From kadhai planters to corrugated furniture, this year the kiosks at Kala Ghoda spelt uniqueness, finds Avril-Ann Braganza.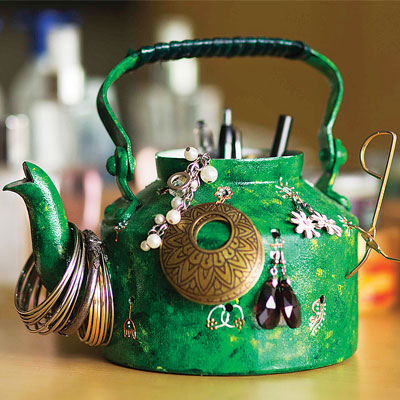 As people huddle around the art installations, shopaholics throng the stalls on either sides of the Kala Ghoda precinct where kurtas, folders, t-shirts, and jewellery jostle for attention with interesting with unusal offerings at stalls like Harshad Patankar's Little Bent, Bandana Jain's Sylvn Studio and Saanwari's PoppadumArt.
At Little Bent, there is a milk-can bar unit and a cycle bar unit. There's also a door-bell shaped like a wooden scarecrow, if you pull the lever, the scarecrow's tongue pops out. "It's just an alternate fun switch instead of your normal switch," Patankar tells a customer. There are six more of these wooden door-bells – a cycle bell, a trumpet, a temple bell and a steering wheel. On the other side are peep-holes — a camera where you can peep at the person through the lens; a face with googly eyes and another face with spectacle where one lens opens up to reveal your own peeping eye. Patankar also has lamps — a tent, umbrella, pen, a tap with a drop of water, a hand holding a kerosene lamp, a kettle on a kerosene stove and the front of the car which is a lamp, a clock and a magazine rack. Most products are made from wood. "I think wood is easy to work with," he says.
Patankar's stall is not new, he brings something new and interesting to Kala Ghoda every year. "These are common things we see everyday. A tap is nothing new and neither is a cycle or a milk-can.
It's just taking ordinary things that we see around us and changing their purpose into something that can be used at home," he explains. With a mechanical engineering background, figuring out the technicalities and the feasibility of his ideas is no rocket science for him. Patankar makes furniture, bar units, watches, clocks, lamps, leather bags which are available only at his workshop in Chembur.
Another stall nearby features a beautiful settee made from corrugated paper. This was Bandana Jain's stall, Sylvn Studio, and also has nesting tables, a magazine rack and lamps. Jain is a student from JJ School of Arts and has been creating corrugated furniture and lamps for the last three years. "The first time I tried it was when I had bought a new house. I knew the strength of corrugated paper and wanted to experiment with it. The idea of corrugated furniture was fascinating." But is it sturdy enough to sit on? "The sheets are cut, glued together and compressed. The flute pattern makes it sturdy," she says. "But that doesn't mean you can toss it around," she adds. It's also chemically treated for termites and curiously dust-free, but the best thing about it is that "It's a great conversation starter". Jain doesn't have her own store yet, but her work is available on Amazon, Pepperfry and at a few high-end stores like Belleza.
Red, yellow and blue kettles hanging from the ceiling welcome you at the Poppadum Art stall. Saanwari Malkani has got Sachin Tendulkar, Batman, Johnny Bravo and Superman mirrors. There are jam-jar lamps, street light salt and pepper shakers, write-on-me planters, colourful chai kettles and a kettle jewellery organiser — it's a visual colour fest. How did she think of making 'happy things'? Malkani quit her advertising job and decided to put her talent of glass painting to better use. "I have become a little loony since I started. I see products for not just what they are; I start thinking what I can do with them to make them more interesting. Most of my ideas come from everyday situations. I realised I don't give my husband enough space to keep his stuff and that's when the 007 Man Tray came about. I have never seen any fun and colourful planters and I cannot tell the difference between basil and oregano. Voila! The write-on-me planters came into existence. You can write a message or the name of the plant in chalk and erase it whenever you want."
Malkani's designs and prints are contextual and can rarely be replicated onto another product. "Johnny Bravo or the batman mask on any other product except the mirror won't work. You want to assume the character." Her 'happy things' are available on their website www.PoppadumArt.com and at a few stores across the country. In Mumbai, her products are available at Bliss, Tappu ki dukaan, Roti Kapda makaan, Dorje Doma designs and Loose Ends.