Tweet Talk
For 28-year-old Ajay Reddy, founder of GoUnesco, it was just one tweet that kick-started the idea. Ajay, an engineer by profession and traveller by passion was busy building technologies in the IT sector and least expected that he would soon choose the latter, to give a new meaning to his life. The Eureka moment arrived when, "a photograph of a ticket at Hampi, posted on Twitter, questioned people about the number of heritage sites they had visited. I could not identify most of the sites in that picture," says Ajay who, then, decided to travel to all the world heritage sites.

So what is the challenge? The GoUnesco challenge is open to anyone who enjoys travelling. The challenge is to travel to 28 UNESCO World Heritage sites in India, within 365 days. "The idea is to improve awareness of world heritage sites. I don't want people to be ignorant of heritage and history, like I was before I started GoUnesco," explains Ajay. Not just awareness, Ajay's goal is to make people travel as he believes that "travel improves understanding between cultures and fosters appreciation of differences between them."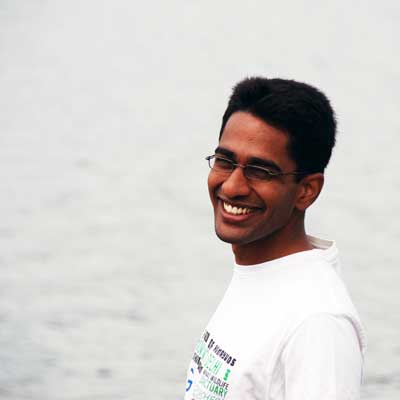 (At Kaas plateau, Western Ghats)

People, pictures and points
With a hectic lifestyle that is cramped with long working hours and few vacation holidays, the GoUnesco challenge hopes to change just that. Initially, Ajay floated the idea among his friends who instantly took to it. The next step was to set up the website and design the challenge. "Soon, we started getting participants from word of mouth and blog posts," he adds. To add to the thrill, Ajay built a game around the travel. "I allotted points for each site, based on the popularity of the site and accessibility," he elaborates. Essentially, commonly visited sites like Red Fort Complex, Taj Mahal, earn a participant 25 points each whereas Kaziranga National Park and Valley of Flowers would get them 60 points each. The Mountain Railways of India, which includes Darjeeling, Shimla and Nilgiri railways, fetches 75 points. "A candidate who wins the maximum points out of 1000 is the winner," adds Ajay. To authenticate one's visits to the respective sites, participants are required to mail across their photos posing with that day's newspaper, with the site in the backdrop.

The first GoUnesco challenge was rolled out in January 2012 with 20 participants. Their details and the challenge points they earned are on the website. There are no restrictions to be a part of the challenge. One needs to simply sign up on the website. You also have the freedom to travel with anybody, at any given point of time in the calendar year to complete the challenge. "Many people don't even know if they have been to a world heritage site, checking www.gounesco.com/explore will give them an accurate idea of how many sites they have visited already," he emphasizes.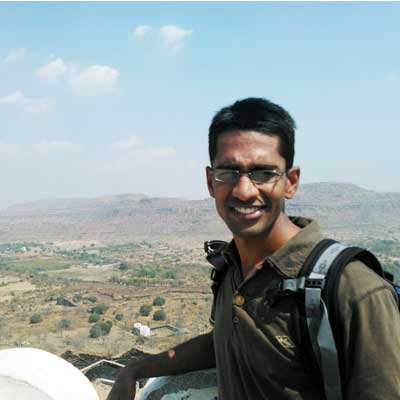 (At Daulatabad Fort)

Going places
An avid traveller, Ajay has been to 13 UNESCO world heritage sites, in India, including the Smoky Mountain National Park in the United States. Ask him his favourite site and pat comes the reply, "I don't have a favourite but Bhimbetka amazed me the most. Bhimbetka, on the outskirts of Bhopal, has some incredible rock and cave paintings but not everyone knows about this," says Ajay, who feels that history is all around you. Ajay believes each travel brings with it a myriad set of experiences and lessons. "Hampi was a relaxed weekend trip from Hyderabad, while the trip to the sites in Madhya Pradesh was done over a long weekend, which included sleeping on the railway platform," says Ajay. While he enjoys the luxury and comfort, "I end up doing budget travel almost every time," he says humbly. Ajay believes the challenge changes your perspective of people and places. Recalling an incident in Khajuraho, in March 2012, he says, "That night in Khajuraho, when we almost went to bed hungry, one of the hotel attendants shared his food with us (Ajay and his friend). I was touched by the gesture."

Hyderabad based architect, Jai Bharathi won the 2012 challenge by visiting all 28 world heritage sites in India. She ended her travel with a visit to the churches and monuments in Goa on New Year's Eve. This year, the GoUnesco challenge, which commenced in January 2012 and ends on December 31st, has spread its wings to a global audience. "We have more than 300 participants this year from as far as the US to as east as Hong Kong," says Ajay with an unmistakable thrill in his voice. The future of GoUnesco is bright and hopeful, according to Ajay. "I want to get GoUnesco recognized by UNESCO as both have common objectives. I also hope to find sponsors for the challenge to make it more self-sustainable," concludes Ajay.