A week dedicated to wine is not just a chance to enjoy drinking it in copious amounts but to explore the beverage in all its Indian glory, finds Joanna Lobo.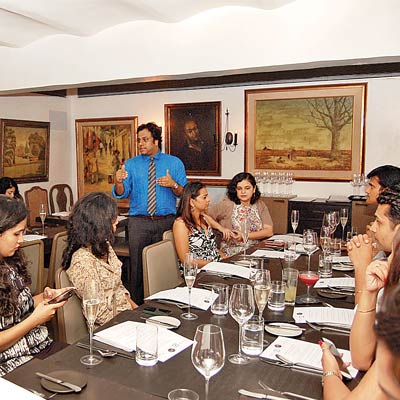 A few courses into the dinner announcing the third edition of the Wine Week in Mumbai, sommelier Nikhil Agarwal makes his most important point of the night. "Our main aims for having this Wine Week are one: drink lots of wine, drink lots of wine, drink lots of wine with family and friends, and drink lots of wine with a variety of food from around the world." Agarwal, called the Flying Winemaker by channel TLC, is the man responsible for the wine consultancy All Things Nice, and is credited with introducing people to the wonders of the beverage.
The Deutsche Bank All Things Nice Wine Week will see its third edition kick off this week in Mumbai. The celebrations involve a flat 30% discount on any bottle of wine or a set course menu paired with wine at some of their partner restaurants. "We've realised that the only way to educate people on wine is letting them experience it for themselves," says Agarwal. "There's only so much you can learn from having classes."
The preview to the Wine Week thus features a set menu, pairing some Indian and foreign wines with fresh pizzas at Nico Bombay, Kala Ghoda. It's an unusual combination, everyone agrees, pairing something dainty like wine with what many consider In India to be junk food. The Wine Week then is a chance to break all these barriers.
In India for the longest time, wine was viewed as the beverage of the upper classes, a drink meant to be had on special occasions. It's in the last few years, with the proliferation of wineries opening up largely in Maharashtra's Nashik area, that wine has been getting its due. There's still a long way to go before Indian wine-drinkers start opting for locally produced wines over their French and Australian counterparts. "If you give a customer an option between choosing an Indian wine and a French one, they will go for the latter. If you have a blind tasting, most people will choose the Indian wines. It's all in the mind," says Nico Goghavala, owner of Nico Bombay, one of the participating restaurants.
As Agarwal puts it, the Wine Week is also a chance to enjoy a variety of food. Some fine-dining restaurants that are part of the Wine Week include Olive, Smoke House Deli chain, Indigo Deli chain, Out of the Blue chain, Pali Village Café, Café Prato and San-Qi at Four Seasons, Botticino at Trident BKC, Vinoteca By Sula, Otto Infinito, The Sassy Spoon and Serafina.
As part of their involvement in the Wine Week, Nico Bombay promises customers only the freshest organic ingredients, all sourced from within the country. Even their cheese is made fresh, daily. "It's time we open up to how eating local can not only be healthier but cheaper too," says Goghavala. "It should become a habit."
The Deutsche Bank All Things Nice Wine Week will be held from February 17 to 23. Visit www.allthingsnice.in for more details.