A Ponnuchamy among 14 cops acquitted in Dara Singh case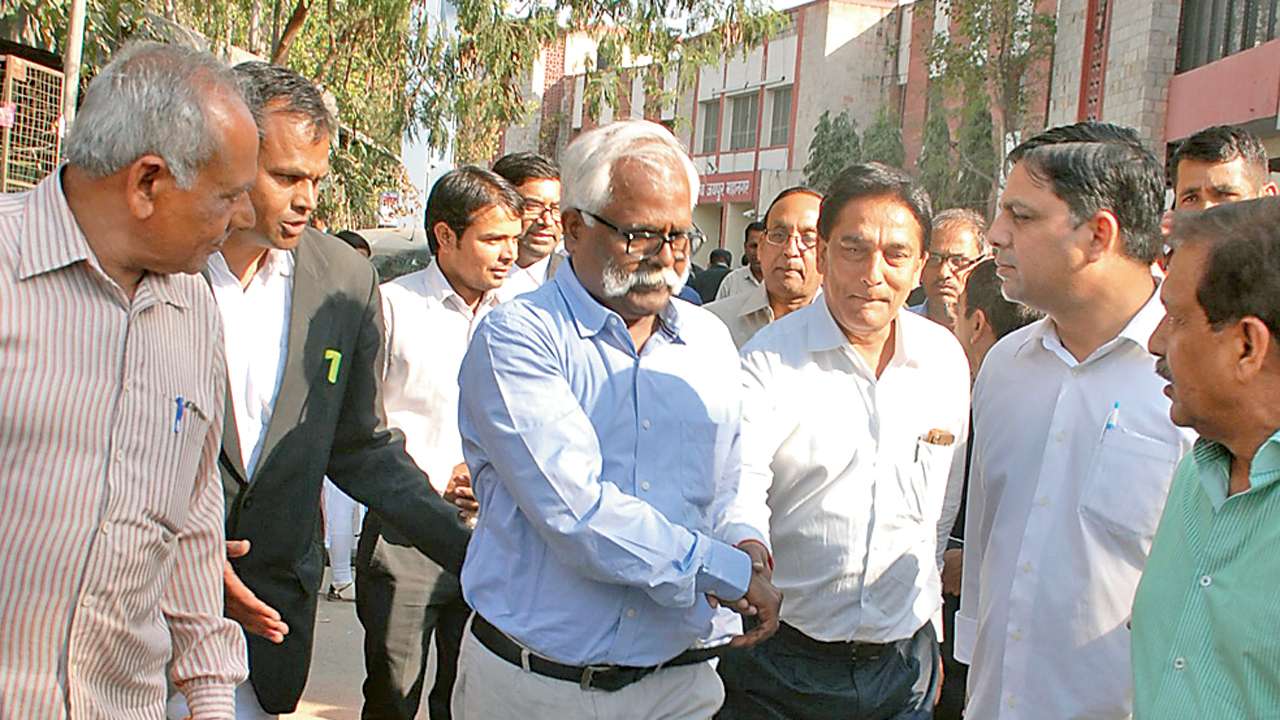 A Ponnuchamy being greeted after the verdict on Tuesday. - Santosh Sharma, DNA
Written By
Updated: Mar 14, 2018, 06:15 AM IST
In a major relief to all accused, a court on Tuesday, acquitted senior IPS officer and 13 other serving and retired police officials in the high profile Dara Singh alleged fake encounter case of 2006.
The court gave the clean chit as it did not find any evidence against the accused and the CBI, which was probing the case could not establish that Dara Singh was an ordinary criminal.
Presiding officer Ramesh Kumar Joshi said that the police fired in self defence. "Dara Singh provoked the policemen by firing at them. The police fired in self defence. If Dara Singh had surrendered instead of firing at the police, the incident would have been averted," he said.
According to the court, the CBI could not prove through evidence submitted by it that Dara Singh's case was beyond SOG's purview. The investigating agency also failed to prove that Dara Singh was an ordinary criminal.
Besides, the court said that the prosecution failed to substantiate that it was a conspiracy in which the accused acted in connivance with Rajendra Singh Rathore who had an interest in Dara Singh's murder. "As per facts presented Sher Singh Poonia and Sisram contrived this case for their political interests," the court said. Both, the narrative of the incident by the prosecution and inquiry report by Rohit Kumar Singh were considered wrong by the court. It said that inquiry by Rohit Kumar Singh was illegal and holds no legal sanctity.
Commenting on naming Rajendra Singh Rathore and AK Jain in the case, the court said, "Due to political aversion and pressure from a particular caste, their names were involved to influence the investigation."
The SOG team consisted of 11 policemen of different castes from constable to inspector level. "Now days, it has become standard practice that if a most wanted criminal is being killed while trying to escape by firing at the police, members of his community not only create pressure on the government but also try to get compensation through unfair means," The presiding officer commented.
All the while, the criminal is projected as if the police have committed a big crime by acting against him. Criminal elements file unnecessary case against the police, which lowers morale of the policemen who honestly perform their duty.
The Acquitted
Those who were acquitted in the case are 1991-batch IPS officer A Ponnuchamy, at present posted as ADG (Police Housing), Arshad Ali (Additional SP rank), Rajesh Chaudhary, Nisar Khan, Subhash Godara, Naresh Sharma (all Inspector rank police officers), Satyanarayan Godara, Surendra Singh, Julfikar, Arvind Bharadwaj (all Sub-Inspector rank), Badri Prasad and Jagram (both Head constable rank), Sardar Singh (police driver) and retired Sub-Inspector Munshi Lal.
The additional district judge acquitted all the 14 accused in offences under sections including 302 (murder) of IPC, advocate A K Jain, counsel for two of the accused, said.