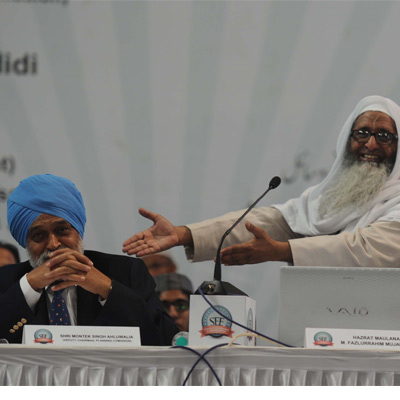 Deputy chairman of Planning Commission Montek Singh Ahluwalia on Sunday stated that he will put forward demand-driven scholarship programmes for the minority community to the government. Ahluwalia was addressing the programme 'Minority Welfare Under Different Regimes', which was organised to assess the progress of the minority community (Muslims) during the NDA and UPA regimes.
Held on Sunday at the NSCI grounds in Worli, it was organised by Strive for Eminence and Empowerment (SEE), an NGO. Apart from checking the status of the community, it creates awareness programmes for Muslims on government schemes and their implementation.
"It is a good idea and I will put it forward to the ministry and the government. There is no doubt that scholarship programmes should be demand-driven. I feel that skill development should also be encouraged in the community. It's one of the logical steps," said Ahluwalia. He added that it would help generate employment in the community and NGOs should pursue this aspect of community development with the government and ministries.
The pre-election event had a sizeable number of Congress leaders, including Salman Khurshid and Arif Naseem Khan. They addressed a gathering of over 3,000 Muslims. The organisers stated that though they were not satisfied entirely with the implementation of PM's 15-point programme by the UPA, they said the Centre had taken some initiative towards improving the status of Muslims in the country. In an apparent gesture that the community should be voting for the Congress party, they gave a clean chit to the UPA.
"We are happy that at least some progress has been made by them. Having a minority ministry, documenting the status of Muslims through the Sachchar report — all happened under UPA," said Maulana Mohammed Fazlur Rahim Mujaddidi, who runs SEE.
"We are also trying to put up a strong argument in Supreme Court over the 4.5% sub-quota for Muslims," said Khurshid. He added: "Efforts are also on to ensure that some kind of schemes can be worked out for minority concentrated towns."