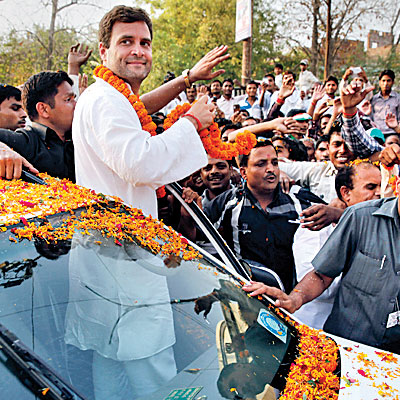 In a rather bold posturing, Congress Vice President Rahul Gandhi on Saturday completely ruled out the possibility of his party supporting the Third Front to form the government.
"We will not support any front," Gandhi, told reporters while campaigning in his constituency, Amethi. Asked whether Congress could support a Third Front government, he said: "We will get the required number (of seats)," he said, while replying to queries on whether his party will explore post-election tie-ups to form the government.
Rahul's remarks are significant as they come a day after CPI(M) General Secretary Prakash Karat said a repeat of the 1996-like situation was possible and the Congress may be forced to support a government of secular parties at the Centre to keep the BJP out of power.
Interestingly, Samajwadi Party chief Mulayam Singh Yadav has been repeatedly asserting in all his rallies that neither the NDA nor the UPA, but the Third Front would form the government at the Centre. He is apparently sure of getting support of Congress in the formation of a Third Front government. Political analysts also feel that the Congress Party would be left with no other option in a situation where the UPA numbers plunge, as largely expected.
Besides, Rahul's statement also flies in the face of what some leading lights in the Congress Party itself have been saying about the possibilities of a Third Front government being installed with Congress support.
Senior Congress leaders including AK Antony, Salman Khursheed, and P. Chidambaram have admitted in so many words that their party would be open to supporting the formation of a Third Front government, even if only to keep the saffron brigade led by their bête noire Narendra Modi out of power.
It might be too early to read too much into the bravado with which Rahul made the statement on Saturday, considering that he is on a campaign trail, that too on home ground, and is thus expected to sound confident even if certain political watchers might see it as idle bluster. However, the bold posture Rahul has taken is sure to boost the Congress Party's sagging morale and set its political opponents weighing their electoral equations afresh.