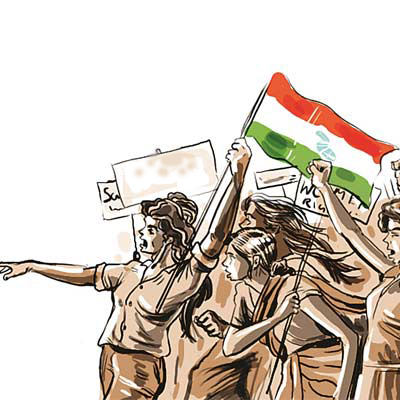 It has to be nothing short of an accomplishment if a Dalit woman stands the helm of a village in India. However, it never gets easy for Badami Devi, being a woman, a Dalit and the Sarpanch of Puravas Kalan Morena district in Madhya Pradesh.
For the last four years, she has been categorically denied the right to hoist the Indian flag in her village. Instead, a former Sarpanch, who belongs to an upper caste, is called in to hoist the flag during occasions of Independence Day and the Republic Day. The organisers were so averse to her attendance at these programmes that she wasn't even offered a chair at the event.
Badami Devi had staged a dharna in Bhopal earlier this week, alleging that the administration was supporting the upper caste lobby which not only deprived her right to hoist the national flag, but has also stalled the opening of a middle school in Harijan basti of the village.
Her husband had lodged a complaint before the Commissioner of Chambal Division, Hindustan Times reported. "The sarpanch has lodged a complaint about flag hoisting but it is not true that she was restrained from hoisting the flag. In fact, there is no gram panchayat bhavan in the village. The primary school is the only government building in the village. The school employees invite the former sarpanch instead of the present one for hoisting flag," the divisional commissioner told Hindustan Times.
Making note of this, the National Human Rights Commission (NHRC), on Wednesday, took suo motu cognisance of the media report on the situation. "The Commission has observed that the contents of the media report, if true, raise a serious issue of violation of human rights of the Dalit woman," the NHRC noted.
NHRC has also issued notices to the Divisional Commissioner of Chambal and District Magistrate, Morena, Madhya Pradesh calling for factual reports within two weeks.