What was cooking at Sonia Gandhi dinner? 2019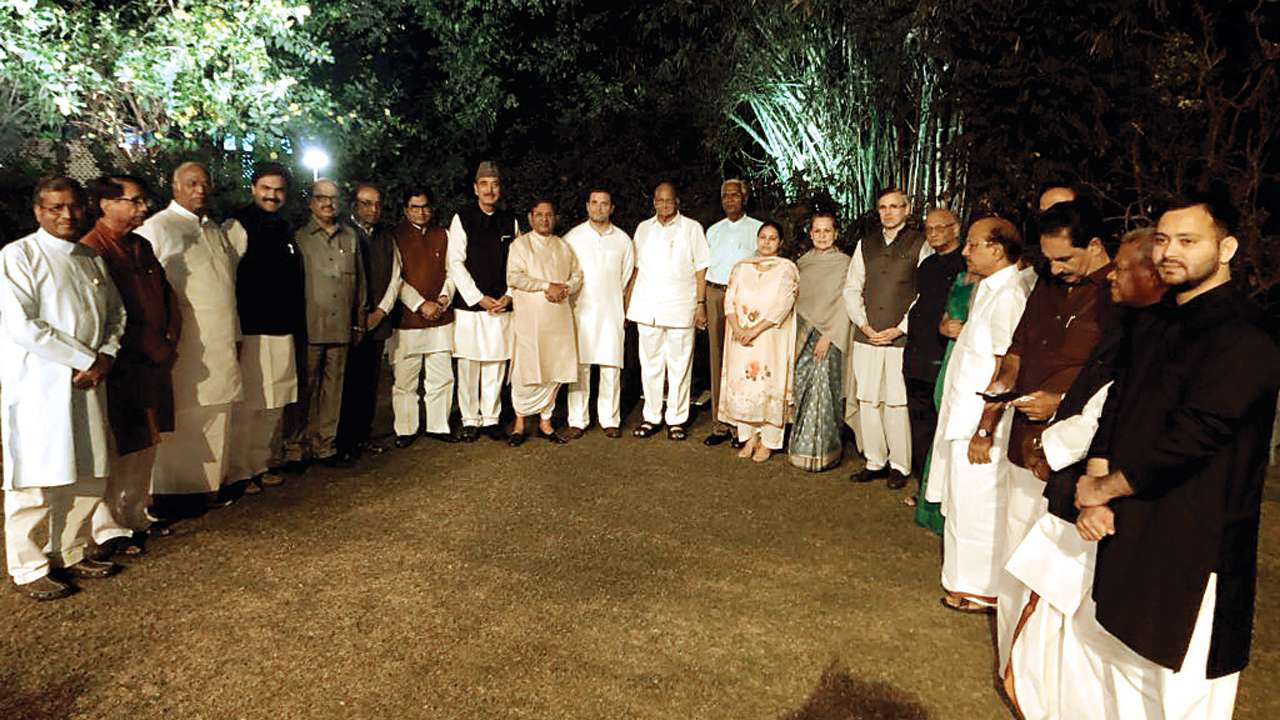 Sonia Gandhi with her dinner guests , OfficeofRG/Twitter
Written By
Updated: Mar 14, 2018, 05:25 AM IST
Hoping to build a grand alliance before the 2019 Lok Sabha elections to halt Modi-Shah's poll juggernaut, the much talked about UPA chairperson Sonia Gandhi's dinner attracted leaders from 19 opposition parties.
Feeling revitalised after several by-poll victories and improved performance in local body elections, Congress is trying to build up pressure on the Modi government on issues related to agrarian crisis, unemployment growth and rising cases of scams, yet it is conscious that dislodging the BJP may not fructify without building an alliance on the lines of 2004.
Opposition unity in the Parliament on various issues and protests by NDA partners on the floor of the house had perhaps given Gandhi the confidence to test the waters for forging an alliance.
The BJP, however, dubbed the dinner as of no consequence.
Parliamentary Affairs Minister Ananth Kumar said Gandhi's dinner politics will be only about dinner as the BJP, under Modi, remains a winner with ruling NDA attracting more allies.
Kumar cited BJP's alliance with local parties in northeast states to claim that the NDA is becoming "NDA plus". "The Congress is becoming more and more isolated," he said.
The dinner saw the presence of key opposition leaders such as Sharad Pawar (NCP), Kanimozhi (DMK), Ram Gopal Yadav (SP), Sudip Bandhopadhyay (TMC), Tejaswi Yadav and Misa (RJD) and Omar Abdulla (National Conference).
BSP also made its presence felt by sending senior Rajya Sabha leader Satish Chandra Mishra. BSP's ally in Karnataka, JDS, that is fighting against Congress leader Dr K Reddy, was also present at the dinner. Leaders from both the Left parties — Mohammad Salim from CPM and D Raja from CPI also attended.
Besides Hemant Soren (JMM), Ajit Sigh (RLD), Babu Lal Marandi (JVM), Sharad Yadav (Bharatiya Tribal Party), Jiten Ram Manjhi (Hindustan Awam Morcha), Ramachandran (RSP) and Kutti (IUML) were also part of the dinner meeting. As expected, Aam Aadmi Party (AAP) was not invited.
Team Congress was represented by Gandhi and party president Rahul Gandhi, as well as top leaders such as Dr Manmohan Singh, Ghulam Nabi Azad, Mallikarjun Kharge, A K Antony and Randeep Singh Surjewala.
Stopping short of saying that this was an effort to make way for the grand alliance before 2019 polls, Congress media in-charge Randeep Surjewala described the dinner as a meeting of like-minded leaders to discuss the ongoing political scenario and serious issues affecting the nation.
"At a time when the government is trying to create walls," he said, "we are making way to travel together by forging friendships and bringing harmony. When like-minded leaders meet, they discuss politics and serious governance issues that are affecting the whole nation.
"The opposition wants to ensure accountability of the government which is running away from the debate in the Parliament," he added.